The draw for The CWFA Youth Cup has been made and is as follows:
CWFA Youth Cup- Sunday 21 October (ko 2pm)
Newtown v Aberystwyth
Ffostrasol v Llanidloes
Welshpool v Newcastle Emlyn
Berriew v Machynlleth
Llanilar v Llandysul
Brecon Northcote v Rhayader
Byes: Bow St, Llanfair Utd.
CWFA SENIOR CHALLENGE CUP
The draw for the first round of The CWFA Senior Cup is as follows:
SATURDAY 13 OCTOBER (ko 2pm)
Extra time and penalties if required.
Padarn United v Brecon Northcote
Trewern v Waterloo Rovers
Machynlleth v Forden
Llandysul v Dolgellau
Aberystwyth University v Llansantfraid Village
Talgarth Town v Newcastle Emlyn
Penparcau v Rhayader
Dyffryn Banw v Newbridge On Wye
Tregaron Turfs v Ffostrasol
Abermule v Penybont
Llangedwyn v Montgomery Town
Four Crosses v Llanymynech
Borth v Llanilar
Bishops Castle v Bont
Presteigne v Hay Sy Mary's
BYES: Kerry, Bow St, Llanidloes, Builth Wells, Caersws, Berriew, Aberaron, Llanfair U, Churchstoke, Carno, Radnor Valley, Tywyn/Bryncrug, Guilsfield, Welshpool, Llandrindod Wells, Penrhyncoch, Llanrhaead YM.
FAW Long Service Award
LES PITT
Les Pitt was a junior player for Presteigne St Andrews and was captain of his team. He became a committee member in 1964 and has been an 'ever present' ever since both as committee member and social committee member.
He has been President of the club and Secretary. He is presently Minutes Secretary and runs the very successful 100 club.
His support and enthusiasm for the club has never dimmed. He's a fount of knowledge when it comes to the history of the club and is held in high esteem throughout Mid Wales football.
Les was recently presented with the Long Service Award by Phil Woosnam, FAW Council member and Secretary of the MMP with Norman LLoyd League.
CWFA Referee of the month
TOM CHILDS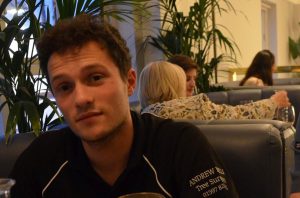 Trainee teacher Tom Childs from Builth Wells became a referee in 2014 after suffering a nasty shoulder dislocation playing for Builth Wells.
'I had done some coaching, but I wanted to be out there on the pitch, actively involved, feeling part of the game'
He contacted the CWFA Referees Officer and before long he attended a course in Talgarth and qualified as a referee.
'There's a lot of support for new referees, you feel part of a team'. Tom is now in the Central Wales Referee Development Group and is a member of the Radnorshire Referees Association. He's appointed to MMP Division 1 and 2 games but has the ambition to referee at Welsh Premier League level.
Tom has been involved in some interesting incidents. 'I once sent a player off for biting – on Halloween!'
Tom would advise anyone thinking of taking up the whistle to go for it. 'I can honestly say, I have enjoyed refereeing more than I enjoyed playing'.
J Emrys Morgan Cup
The draw for the 1st Round of the J Emrys Morgan Cup has been made.
The conference date is Saturday 29 September ko 2.30pm
(Extra time and penalties if required)
Round 1
Kerry Res v Talybont
Llandrindod Wells Res v Newcastle Emlyn
Trefonen v Llanfechain
Trewern v Dewi Stars
Penybont v Bargod Rangers
Llangedwyn v Bishops Castle
Maesglas v Padarn Utd
Llanwddyn v Lampeter Town
Llanon v Meifod
Llanboidy v Welshpool Res
Llanymynech v St Harmon
Newtown Wanderers v St Dogmaels
Aberporth v Guilsfield Res
Waterloo Res v Newcastle
Brecon Northcote Res v New Quay
Caersws Res v Llanfair Utd Res
Felindre v Crannog
Aberaeron Res v Abermules Res
Tregaron Turfs v Felinfach
Aberdyfi v Cardigan
Llanidloes Res v Penparcau
Four Crosses Res v TSDUC
Bow St Res v Presteigne Res
Penrhyncoch Res v Borth Utd Res
Knighton Town Res v Forden
Maesyrhandir v Ffostrasol
Llanilar v Builth Wells Res
Llandysul v Machynlleth Res
Llanfyllin v Hay St Marys Res
Talgarth Town v Bont
Byes: Llanrhaedr YM, Churchstoke Res
The 8 ties in bold
The match dates for the 8 ties in bold will be confirmed following the Welsh Cup 2nd Round draw.
VOLUNTEER OF THE MONTH
CAROL WILLIAMS
COACH AT BERRIEW FC JUNIORS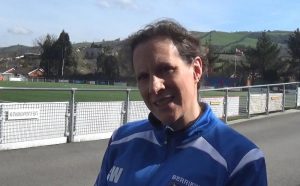 Mother of four boys, Carol Williams took up coaching in 2013 when her son Charlie joined the Berriew Juniors U9 side.
Carol played some football when she was younger but coaching has given her the opportunity to get involved in and give something back to her local community.
Carol has an FAW Leaders Award and is now aiming for the next level of her coaching journey.
In the past year she says she has seen an increase in the 'support and encouragement offered to women and girls to get involved in the game in any aspect'.
"It does keep me very busy but the children love it and it helps keep me fit and it's a nice way to wind down after a week working in the office.
"It gives me a great perspective as the kids just come along to have fun."
"I'm quite happy where I am at the moment and I enjoy working with the kids but the C Certificate is something I would like to do in the future.
"I'm always looking for new ideas to help keep the kids involved, keep their enthusiasm up and keep them coming back.
"I love sharing ideas with other coaches and adapting them for my own players."
Carol hopes that the women's game in Wales will continue to grow and that more girls are encouraged to not only play football, but to get involved in sport in general and hopefully gain the confidence to consider future careers in the field.
BECOME A REFEREE
You can now do an online course
Follow this link: http://www.becomearef.wales/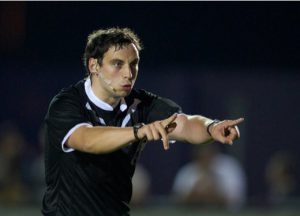 SUSPENSION LIST
CWFA Ladies Summer Tournament – Sunday 8th July – Latham Park, Newtown
Come down to Latham Park Newtown to watch the Ladies Tournament from 10.30 am
The tournament features a number of top teams from across Wales and provided great entertainment last year.
We look forward to seeing you there on Sunday.
With Club accreditation now upon us please note the following opportunities for Level 1 coaches new and old.
8 July 2018 – Football Leaders Award
Location: Aberystwyth Town FC
Course Date: 8th July 2018
Course Time: 9-5pm
17 July 2018 – FAW First Aid Award
Location: Aberystwyth Town FC
Course Date: 17th July 2018
Course Time: 6:30pm – 9:30pm
Level 1 Coaches Revalidation Opportunities;
FLA – FAW C Certificate, Bridging the Gap Workshop – August 8th (3 Hours)
Location: Aberystwyth Town FC
Course Date: 8th August 2018
Course Time: 6:30pm – 9:30pm
22 November 2018 – McDonalds Revalidation Workshop – " Managing the Environment " (3 Hours)
Location: Aberystwyth Town FC
Course Date: 22nd November 2018
Course Time: 6.00pm – 9.00pm
30 September 2018 – Pitchero Grassroots Coaching Conference (Final Third) – (6 Hours)
Location: Newtown AFC
Course Date: 30th September 2018
Course Time: 9.00am – 4.30pm
 Each of these Awards / Workshops are now 'live' and available to book via www.fawcourses.com
FAW Football Leaders Award – Sunday 8th July 2018 @ Aberystwyth Town FC     
This course is now 'live' and available to book via www.fawcourses.com
Challenging Racism in Football – National Anti-Discrimination Workshop
FREE COURSE
Date: 6th Aug 2018
Venue: Llanidloes Town Football Club, Victoria Avenue, Llanidloes, SY18 6AS
Time: 6:30 – 8:00pm
Booking: to book onto the workshop visit: https://www.eventbrite.co.uk/e/srtrc-national-anti-discrimination-workshop-cwfa-llanidloes-town-fc-tickets-46750842027
Follow the link to book on to the course
REGIONAL REFEREE DEVELOPMENT OFFICER
FAW are now advertising for vacant Regional Referee Development Officer positions within Areas.
If interested follow this link;
http://www.faw.cymru/en/about-faw/fa-wales-vacancies/regional-referee-development-officers/
SAFEGUARDING AND ACCREDITATION ROADSHOW AT NEWTOWN FC – JULY 18TH
Just a reminder about the upcoming Safeguarding & Accreditation Roadshow taking place on Wednesday 18th July at Newtown FC.
Would all leagues and clubs RSVP to Daniel Jose at FAW  DJose@faw.co.uk  by Wednesday July 4th as we want to ensure the event is well attended.
Leagues and clubs will find the Roadshow very useful in relation to dealing with a broad range of Safeguarding queries as well as the Club Accreditation scheme.
If you have any queries regarding the event don't hesitate to get in touch with Daniel Jose.
CENTRAL WALES YOUTH CUP
A Matthew Jones hatrick sealed victory for Aberystwyth Town Youth 4 – 1 against Rhayader Youth at Llanidloes. Congratulations to Aberystwyth Youth.
CENTRAL WALES SENIOR CHALLENGE CUP
Caersws saw off a late comeback by Guilsfield to with the Challenge Cup 4 – 3 at Llanidloes. Congratulations to Caesws FC
FAW Football Leaders Award
29 April 2018 – Football Leaders Award @ Aberystwyth Town FC
 The FAW Trust is holding an FAW Football Leaders Award at Aberystwyth Town FC on 29th April. Clubs may well have potential coaches/volunteers who may need this award, particularly for junior club accreditation purposes.
Candidates can book a place on the website www.FAWcourses.com or by following the link – https://www.fawcourses.com/category/training
CWFA LADIES CUP FINAL
Congratulations to Lanfair Utd Ladies who on Friday 13th April overcame Aberystwyth Town Ladies 3 – 2 to win the CWFA Ladies Cup
FAW C Certificate, 2018-19
To support preparations for next season, the Trust has launched its 2018-19 FAW C Certificate which includes a variety of awards nationwide, including their inaugural FAW C Certificate, Intensive course, supporting coaches to complete their Level 2 in Coaching qualification across a 5-day period.
As always, their team of staff are in place to support any questions or queries your coaches may have, and to support any applications towards Sport Wales, to attain the full 100% funding for the FAW C Certificate, Course.
Lawrence Badman – Gwent, South and West Wales
Guy Handscombe – North and Central Wales
Here is the link to the FAW C Certificate homepage for candidates to register for their designated course – https://www.fawcourses.com/category/faw-c
For all existing, FAW C Certificate holders (or FAW Football Leaders Award holders) the Trust has also launched a 18-month revalidation calendar, with over 300 places per region available on their website free of charge, to ensure all coaches maintain their qualifications, these courses can be found https://www.fawcourses.com/category/faw-revalidation (FLA holders only) and https://www.fawcourses.com/category/grassroots (FLA and FAW C Certificate holders)
J EMRYS MORGAN CUP FINAL
Congratulations to Newcastle Emlyn FC winners of the J Emrys Morgan Cup. Newcastle Emlyn overcame Four Crosses 5 – 0 in the final held at Newtown on Good Friday.
REGIONS CUP MATCH RESULT
The CWFA representative squad put in a great effort at Bala last night eventually going down 4 -2 to North East Wales FA. CWFA were a goal down after only 30 seconds and 2-0 down at half time. however, CWFA battled back to draw level at 2 -2 with a brace from Khyam Witton of Llanrhaedr. Unfortunately, perhaps due to tiredness, CWFA gave away two late goals in the last 5 minutes. Overall a good performance.
CWFA was determined to enter the Regions Cup and apart from the home result against North Wales Coast our teams have proved themselves close to the standards of the other regions at this level. We have always regarded this first re-entry to the competition as an opportunity to learn more about it and our approach generally. We had a short lead in period so our trials had to catch up with games that had already taken place. We will now have a de-brief, learn from our mistakes and in order to improve generally for the next round of matches. If anyone, players, coaches, club secretaries etc would like to contribute constructive comments about the Regions Cup experience, please e-mail dhjones@morrisbates.co.uk with your comments. I will keep names of contributors confidential.
REGIONS CUP MATCH REARRANGED
The Regions Cup match between NEWFA and CWFA has been rescheduled for Tuesday 6th March 2018 at Bala kick off 8.00 pm
REGIONS CUP POSTPONEMENT
The Regions Cup match between NEWFA and CWFA which had been due to take place at Airbus tonight has been postponed due to the weather uncertainties.
WALES ACADEMY SUCCESS
Liam Doherty and Harri Horwodd of the Aberystwyth Town FC Development squad were prominent for the Wales Under 18'S Academy team as they beat the Republic of Ireland 0 -2 to reclaim the John Coughlan Memorial Cup.
It was Doherty's strike that forced the Irish goalkeeper into a save that rebounded to Horwood to open the scoring in the 70th Minute.
Two other youngsters from the Aberystwyth Town Development squad were involved in the Wales Under 18 squad, Lee Jenkins and Alex Pennock. Congratulations to them and Aberystwyth Town.
REVALIDATION
2018, Level 1 revalidation dates are now live and available for booking via website – https://www.fawcourses.com/category/faw-revalidation
Coaches can now book onto any of the available free opportunities in order to gain the required revalidation hours they may need.
An FAW Football Leaders Award holder must attain 6 revalidation hours prior to their qualification expiring – (All Awards have a December/Year end expiry date).
Coaches can either attend;  
2x 3 Hours 'McDonalds Revalidation Workshops'
OR
1x 6 hour 'Pitchero Grassroots Coaching Conference'.
 The current process;
 All FAW Awards have a lifeline of 3-years with an end month of December. For example, "I completed my award in March 2015, my expiry date would be, December 2018"
Within this 3 year(!) time period, all Level 1 coaches must complete a minimum of 6-Hours on an FAW Revalidation Course.
 Level 1 FAW Football Leaders Award opportunities to revalidate;
1, Complete x1 Regional Grassroots Coaching Conference (6 hours in length). A minimum of 1 course is held per region, per season (10-am until 4-pm).
Dates are now live and available for booking on our website – https://www.fawcourses.com/category/grassroots
2, Complete x2 McDonalds Revalidation Workshops (3 hours in length). Several courses held per region, per season (Typically 6:00pm – 9:00pm).
These opportunities are now available for booking on our website –  https://www.fawcourses.com/category/faw-revalidation
Once a coach has completed their 6 hours of revalidation they will be issued with a new certificate and new expiry date. For example, "I completed my Award in March 2015, my expiry date would be December 2018, I have completed my required revalidation hours within this time period… my new certificate will be issued and will show a new expiry date of December 2021".
Please take advantage of these opportunities as early as possible – should this be left until the end of the 3rd year of qualification coaches may find that opportunities to revalidate are limited.
REGIONS CUP RESULT
CWFA had a difficult night at Park Avenue as NWCFA ran away with the match 1 – 9. CWFA will play their last match in the competition away at Airbus next Wednesday.
REGIONS CUP REMINDER
CWFA take on NWCFA at Park Avenue Aberystwyth on Wednesday night (21st February) kick off 8.00 pm. Promises to be a great match so come along and support.
FAW Coaching Footballers with a Disability Award
 This is an Internal Award being hosted by Llanidloes Town Football Club.  If you have any interested candidates who wish to access this Award please inform Andrew Lewis FAW Trust andrew.lewis@fawtrust.cymru; this Award is not currently advertised online at FAWcourses.com
Award Type – FAW Coaching Footballers with a Disability Award
Date – Sunday 29th April 2018
Venue Address – "Llanidloes Town Football Club, Victoria Ave, Llanidloes SY18 6AS"
Course Time: 9.00am – 4.00pm
 This is a six-hour practical course which follows on from the completion of 5 Online Modules, providing coaches with an insight into adapting coaching sessions for disabled footballers in a fun and safe environment. The course will assist, supplement and support coaches existing experiences in this field.
REGIONS CUP CORRECTION
The contact telephone number for Andy Evans is: 07807 978729, kick off on 21st February at Park Avenue will now be 8.00 pm
AMENDED REGIONS CUP CONFIRMED FIXTURES
The confirmed Regions Cup fixtures are as follows;
CWFA v NWCFA – Wednesday 21st February – Park Avenue Aberystwyth – 8.00 pm
NEWFA v CWFA – Wednesday 28th February – Airbus – 8.00 pm (confirmed) (this KO time could be brought forward to 7.45 or 7.30 if players prefer)
It is one of the problems of the geographical make up of CWFA and the fact that we are in a group against northern regions that the travelling distance for South Ceredigion players is significant. But there is also the problem of pitch availability which means that our efforts to play away games as close as possible to CWFA cannot always be achieved.
CENTRAL WALES REGIONS CUP SQUAD
GOALKEEPERS
SIMON HAMER – PRESTEIGNE
JUSTIN SMITH – ST. DOGMAELS
OUTFIELD
ZAC EMBERTON – TREWERN
DAVID LAIRD – KERRY
JASON WILLIAMS – ST. DOGMAELS
MARK EVANS – LAMPETER
CHRISTY GALE – LAMPETER
RYAN EVANS – WELSHPOOL
BARRY HARALAMBOUS – TREWERN
SAM SKINNER – NCE
CRAIG GORDON – NCE
KHYAM WITTON – LLANRHAEDR
RHUN GARNER – BOW STREET
ADRIAN HAZELBY – NCE
HUW JONES – NCE
GEORGE COLVEM – CRANNOG
PAUL JAMES – PADARN
ON STANDBY
JODECI DEAN – CAERSWS RESERVES
STEFF ROWLANDS – ABERMULE
RHYS JONES – ST. DOGMAELS
RHYS DAVIES – CRANNOG
Due to a change in his circumstances Clive Mcnamee has asked not to continue in his role as manager. We respect his decision and thank him for his help and support in getting CWFA's involvement in the Regions Cup underway. Accordingly, former professional footballer and B Licence coach, Andy Evans will manage the team for the next two games. Players can contact Andy to confirm availability at andyevo75_@hotmail.com or 07807 978729.
REGIONS CUP
The squad for the next regions cup match will be announced here on Monday evening (5th February).
Football Leaders Course
There is an FAW Football Leaders Award planned for this coming Sunday, 7th January at Lampeter Leisure Centre.
Furthermore there are 42 cases across our respective junior leagues where coaches qualifications have expired – attendance at Sundays Award would validate the coaches within these leagues for a further 3 years.
To book a place on the course contact Andrew Lewis andrew.lewis@fawtrust.cymru
AFFILIATION FEES – NADOLIG LLAWEN/MERRY CHRISTMAS
The Council of Central Wales FA wants all our leagues, adult and junior clubs and referees to benefit in its 50th anniversary year and has therefore resolved that for season 2018/2019 there will be an Affiliation Fees amnesty for our leagues and clubs (a registration fees amnesty for referees).
Leagues and Clubs will still have to apply to affiliate to CWFA and clubs will still have to pay the fees for entry to CWFA cup competitions but the fee for affiliation to CWFA will be waived for season 2018/2019.
Merry Christmas and a happy and successful New Year.
LEARNING DISABILITY FOOTBALL
The FAW Trust is currently seeking players to represent Wales in the upcoming Home Nations Championship in Belfast this April, and therefore would appreciate any support in helping to identify potential players.
Here are some key points:
Players play 11-a-side football with no adaptations
Players are highly skilled and generally play mainstream football
Players age 15 and older, and under 19 years of age on 31st March 2018 (Born after 1st April 1999, Born on or before 1st April 2003)
Players have an identified learning disability / impairment before the age of 18 years
Players have limited 'Adaptive Behaviour'. This means they might need help with everyday tasks, for example cooking or travelling by public transport
Trial days will be hosted at the following venues on the following dates;
14th January, 10:30-12:30
CCB Centre for sporting excellence Caerphilly Rd, Ystrad Mynach, Hengoed CF82 7EP
21st January, 11.00 – 13.00
The Rock, Cefn Druids, Rhosymedre, Wrexham
Players must register in order to trial, to do this please express  interest at the following email address LDSquad@fawtrust.cymru Representing Wales in the Home Nations Championship offers an amazing opportunity to players, and therefore if you know of anyone who may be right for the squad get in touch or pass on the details.
COACHING AWARDS
There are a number of Level 1 Coach Education Awards available throughout the Central Wales region in January / February 2018.
In light of the next window for Club Accreditation being January 1st  – 31st 2018 all clubs/coaches are reminded of these opportunities and the requirement to have the correct and valid qualifications in place.
For all course information and to book candidates onto any of the Awards listed below, please visit www.FAWcourses.com
Date
Course
Venue
Number of Candidates Registered
Available Spaces
                                               FAW Football Leaders Award
07/01/2018
Football Leaders
Lampeter Leisure Centre
3
16
14/01/2018
Football Leaders
Newtown AFC
5
16
21/01/2018
Football Leaders
Builth Wells Sports Centre
1
16
04/02/2018
Football Leaders
Aberystwyth Town FC
1
16
11/02/2017
Football Leaders
Brecon Leisure Centre
1
16
                                               FAW First Aid Award
06/02/2018
First Aid
Lampeter Leisure Centre
1
16
27/02/2018
First Aid
Aberystwyth University
1
16
                                               FAW Safeguarding Award
04/01/2018
Safeguarding
 Newtown AFC
5
16
01/02/2018
Safeguarding
 Newtown AFC
1
16
22/02/2018
Safeguarding
 Aberystwyth University
1
16
REGIONS CUP FINAL TRIAL RESULT
The Ceredigion based team over came the Powys based team 6 – 2 in the final trial match at Newtown on Sunday.
Now comes the difficult task of selecting the Regions Cup squad, good luck to all those involved.
REGIONS CUP FINAL TRIAL MATCH
The final trial match takes place at Newtown on Sunday 26th November, kick off 4.00 pm
REGIONS CUP COMBINED SQUAD
Following the Cambrian Tyres League v Costcutter Ceredigion League trial match on Monday the players mentioned below have been selected to represent the combined Costcutter and Cambrian Tyres team in the final trial against a combined Montgomeryshire and Mid-Wales south side on 26th November at Newtown.
The Central Wales side to play in the national Regions cup will be selected from this match.
COMBINED COSTCUTTER AND CAMBRIAN TYRES SQUAD
                   Graham Keen(Maesglas)  GK                           Christy Gale(Lampeter)                  
                   Justin Smith(St.Dogmaels)  GK                        Craig Gordon(NCE)
                   Sam Skinner(NCE)                                           Jason Jones(Lampeter)
                   Marc Evans(Lampeter)  captain.                      George Colvern(Crannog)
                   Jason Williams(St.Dogmaels)                          Jake Kelly(NCE)
                   Mike Glover(Crannog)                                    John Lumb(Cardigan)
                   Rhys Davies(Crannog)                                    Adrian Hazelby(NCE)
                   Huw Jones(NCE)                                             Paul James(Padarn)
                   Rhys Jones(St.Dogmaels)                               Ben Holt(Tywyn-Bryncrug)
                   Tim Holt(Tywyn-Bryncrug)
       Reserves on standby-Trefor Jenkins(Bont)  GK
                                      Joe Williams (Bow Street)
                                      Dylan Bailey (Penparcau)
                                      Lee Jones (Bont)
                                      Charlie Parr(Bont)
                                      Gareth Hughes (Padarn)
REGIONS CUP TRIAL MATCH
A representative team from the Cambrian Tyres League met a representative side of the Costcutter Ceredigion League at Park Avenue on Monday 13th November.
The match was played as part of the trials for the Central Wales Regions Cup squad. Central Wales are in a good position to hopefully win the group and progress to a knockout match for the chance to represent Wales at a tournament to be held in Istanbul. So everything to play for.
The Costcutter Ceredigion League side were too strong for their North Ceredigion counterparts and ran out comfortable 0 – 5 winners. The match was played in front of a fair sized crowd and in a very good spirit. Our thanks to referee Mark Milverton and his Assistants.
WALES WOMEN V KAZAKHSTAN
Please be aware of the forthcoming international fixture happening next month.
Wales Senior Women's team will be playing Kazakstan at Cardiff City Stadium in a FIFA World Cup Qualifier on Friday 24th November, 7pm Kick Off.
This is an excellent opportunity, especially for young girls to see wonderful role models in action – inspiring them to play football or become more active. 
 The National Women's team are unbeaten so far in their World Cup qualification campaign. Please show your support for Wales.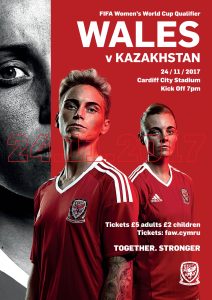 Level 1 Coach Education Opportunities
The following FAW Level 1 Coach Education Awards are planned for the Central Wales region before the year end.
 FAW First Aid Award – Tuesday November 7th @ Aberystwyth University
 FAW Football Leaders Award – Sunday November 26th @ Newtown FC
 FAW Safeguarding Award – Thursday November 30th @ Aberystwyth University
 Each of the above will provide a good opportunity for coaches who require one/all of these qualifications in line with Club Accreditation criteria.
 Please encourage those who are required to hold these qualification to book their places as soon as possible.
 Each of the above named courses can be booked by visiting www.FAWcourses.com and selecting 'Courses'
GIRLS ONLY FESTIVAL – LATHAM PARK, NEWTOWN – SUNDAY 5th NOVEMBER 2017
 A Girls Only Festival is taking place at Latham Park, Newtown on Sunday 5th November , for the following age groups:
U8 (5/6 aside) & U10 (6/7 aside) – 10 -11.15am
U12 (7/8 aside) & U14 (7/8 aside) – 11.30am – 1pm
U16 (7/8 aside) – 1.15pm – 2.45pm
Entry is FREE – no winners, no medals – just football and fun!
If you don't have enough players to form a team, feel free to bring whatever players you have available – as it will be possible to create a turn up and play team on the day.
For further information, contact Paul Inns on paulainns@hotmail.co.uk or 07801240097.
BERRIEW GIRLS FESTIVAL
Berriew FC is holding a Girls Only Festival on 5th November 2017.
 Teams at U10 U12 U14 & U16 are already entered.
 If you are interested in entering a team, please contact Paul Inns, PaulInns@hanrattylaw.com
Sport Wales – Our Squad
You may or may not be aware of a campaign Sport Wales are running called Our Squad. 
 Our Squad is a campaign to help promote any opportunities for women to become active in Wales.
It is therefore an opportunity for football to potentially engage a new and different audience (those that are currently not engaged).
It is intended there should be a high presence of football through this channel (displaying female football is rapidly growing), and further promote the opportunities that exist across Wales for women and girls.
 Sport Wales is more than happy to help promote football opportunities that others are offering via their social media channels. 
The only requirement is, the opportunity is for women (16+ years) of any level (i.e. not just for those above beginner level). To make them aware of something – simply tweet Sport Wales – @OurSquad or via facebook – @OurSgwadCymru. Alternatively email OurSquad@sport.wales
Wales National Team Girls Youth Trials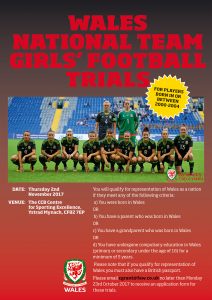 SENIOR CHALLENGE CUP
Due to an administrative error our Competitions Secretary was not provided with the full list of clubs that had entered the Senior Challenge Cup. The list provided was missing the entry of Builth Wells FC.
Accordingly, the Senior Challenge Cup draw was not valid as it did not include Builth Wells FC.
In the circumstances there will have to be a new draw. The new draw will take place on Monday 16th October 2017
BERRIEW GIRLS FESTIVAL – SUNDAY 8th OCTOBER 2017
FINAL LIST OF TEAMS
U8/U10 – 10-11.15am
U12/U14 – 11.30am-1pm
U16 – 1.15pm-2.45pm
The following are currently entered:
U8   – Llandrindod Wells and Llanidloes
U10 – Berriew, Llandrindod Wells, Welshpool, Worthen, Whitestars and Llanidloes
U12 – Berriew, Llandrindod Wells, Welshpool, Whitestars and Llanidloes
U14 – Berriew, Welshpool, Caersws – and Llanidloes have 4/5 players
U16 – Llandrindod Wells/Berriew, Llanidloes, Worthen, Talybont.
For further Information contact Paul Inns
IMMEDIATE SUSPENSIONS
From the beginning of this season 2017-18 the 14 day grace period when a player is dismissed from the field
of play no longer applies, recreational football now comes in line with senior football, a player is now
immediately suspended from the date of dismissal. The disciplinary secretary will confirm this in writing in
the usual manner, detailing the length of the suspension depending on the category of the incident.
CWFA RULES 2017
The CWFA Rules have been updated and adopted by the Membership. The Rules and the three Schedules to the Rules are set out in the Rules section of this web-site.
The Rules section also includes the CWFA's Social Media Policy and the new Cross Border Policy.
CWFA LADIES SUMMER TOURNAMENT
A great day of Ladies football at Newtown on Sunday very well organised by Naomi Hardman. Lets hope we can build on this for the future. TNS Ladies were the winners, with Caernarfon Ladies Runners up. Tregaron Ladies narrowly missed out on a place in the final losing on penalties to eventual winners TNS Ladies.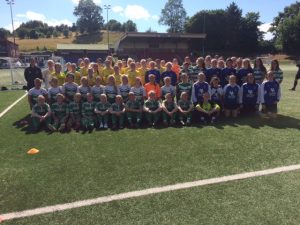 FAW First Aid Award at Aberystwyth FC on Tuesday July 4th.
Please note this opportunity for coaches
Also, spaces still available for the FAW Football Leaders Award to be held at the same venue, Aberystwyth FC on Sunday 16th July and a FAW Safeguarding Award on 27th July.
Contact details;
Andrew Lewis
Level 1 Coach Education Manager
FAW Trust
CWFA LADIES SUMMER TOURNAMENT
7 A-SIDE, FREE ENTRY, AGES 16+
LATHAM PARK, NEWTOWN – SUNDAY 16TH JULY – 12.30 -4.30
Naomi Hardman is helping to promote Ladies Football by organising for CWFA a 7-a-side Ladies football tournament at Latham Park. They already have a number of entries. If you wish to enter a team contact Naomi Hardman on 07860 808500 or e-mail an entry form to her at naomihardman92@live.co.uk
Rules of Ladies Summer Football Tournament
BOW STREET – GIRLS FOOTBALL FESTIVAL – 9TH JULY
This year with the support of the CWFA CP Bow St FC have decided to arrange a Girls football festival on the 9th of July to coincide with its annual tournament. The format of the festival will be as follows,
2  small pitches with small goals set up on the 3g training pitch
Teams of 4 made up of a mixture of girls from years 1, 2 & 3.
Teams will play against each other on a round robin basis.
No results will be kept, there will be no semi finals and no finals.
All girls participating will receive a medal (we therefore need to know the numbers attending beforehand)
Games to start at 10.00am and should be finished before 1.00pm (depending on the amount on teams attending)
There will be no charge to enter teams but there is a maximum number of teams that can be accomodated, therefore it will be on a 1st come 1st serve basis.
If your interested in attending or have any questions please e-mail Amlyn Ifans at amlyni@yahoo.co.uk or ring him on 07968 564767.
He'd appreciate replies before the 30/6/2017.
12/06/2017
The FAW Trusts key Level 1 Awards; encompassing FAW Football Leaders Awards, FAW First Aid Award and FAW Safeguarding Awards, are now 'live' and available to book via www.fawcourses.com
The FAW Women's and Girls' National Football Festival will take place at Cardiff University Sports Fields in Llanrumney on Thursday 1st June 2017. This season's event will form part of the UEFA Champions League Community Engagement Programme.
Following the festival participants will have the chance to visit the UEFA Champions Festival, located at Cardiff Bay, and will be provided with a pair of free tickets to the UEFA Women's Champions League Final taking place at the Cardiff City Stadium later that evening.
 Age Groups
Under 8, under 10, under 12, under 14, under 16 and Senior
When
Thursday June 1st 2017
Time
11.00am – 4.00pm
(registration 10am –10.30am)
Where
Cardiff University Sports Fields, Mendip Road,
Llanrumney, Cardiff, CF3 4JN
Cost
Free
Please click here for an entry form and a copy of the rules.
The playing format will be 5 v 5 for the under 8 category and 7 v 7 for all other age groups. Squad sizes are a maximum of 10. The under 8 and 10 age groups will take part in a festival whilst the under 12, 14, 16 and senior age groups will compete in a tournament.
A transport subsidy will be provided to those clubs taking part. The amount will be confirmed once they know how many teams are participating and will be dependent upon distance travelled.
If you would like to enter teams, complete the entry form and return Rob Franklin by email rob.franklin@faw.co.uk or post no later than May 1st 2017.
For those clubs attending please ensure your players bring the following:
Appropriate playing kit
Shin pads
Suitable footwear for grass
A drink and packed lunch
FAW and FAW Trust staff will be running the event; however, it is the responsibility of the club to ensure that players are appropriately supervised at all times.
If you have any queries or require any further information, please do not hesitate to contact Rob Franklin at FAW.
This is Welsh Football
The photography competition (This is Welsh football) linked to UEFA Champions Leagues and UEFA Women's Champions League has been launched.
 Details of the competition can be found at: website and Facebook.
 Photos can be submitted until April 30th 2017.
Regions Cup 2017/18
Central Wales FA  v North East Wales FA
The Central Wales FA plays its second game, this time at home, this Wednesday 22nd February at Latham Park Newtown at 7.30 pm. The CWFA squad is;
Simon Hamer, Ryan Evans, Zaac Emberton, Jodeci Dean, Steff Rowlands, Luke Mumford, Joe Haycock, Rob Bayliss, Barry Haralambous, Dave Anthony, Khyam Wyton, Huw McGrath, Stuart Buckley-Robins and Max McLaughlin.
FAW Cwpan Y Bobl competition.
Cwpan Y Bobl is a 5 a-side cup competition comprising of six regional (area association) heats, a semi-final, and a final that will held at the UEFA Champions Festival. The competition has expanded this year to include the following categories: adult male (16yrs +), adult female (16yrs +), adult disability (16yrs +), male walking football (40yrs +), under 14 boys (school years 8 & 9) and under 14 girls (school years 8 & 9). In addition to finalists of each category playing on the UEFA Champions Festival pitch, both teams will receive free tickets to one of the UEFA Champions League Finals:
Category
Prizes
Adult male (16yrs +) and adult female (16yrs +)
1.      Play the National Final fixture at the UEFA Champions Festival on 3/6/17.

2.      Team members receive one ticket to the Men's UEFA Champions League Final on 3/6/17.

Adult disability (16yrs +), male walking football (40yrs +), under 14 boys (school years 8 & 9) and under 14 girls (school years 8 & 9)
1.      Play the National Final fixture at the UEFA Champions Festival on 1/6/17.

2.      Team members receive one ticket to the Women's UEFA  Champions League Final on 1/6/17.
More information about the competition, including how to registration a team, can be found at:  http://www.faw.cymru/cardiff2017/cwpan-y-bobl/
Regions Cup 2017/18
North Wales Coast FA v Central Wales FA (Played at Conwy)
NWCFA eventually triumphed 3 – 2 in a closely fought encounter in this Regions Cup opener at a cold and windy Y Morfa.
Abermule striker David Anthony opened the scoring and added a second from the penalty spot as the teams went in a half time level at 2-2.
In a closely fought second half either side could have won it but a goalmouth scramble saw the Coast take the lead and hold on for the win
Our thanks to the players, manager Clive McNamee and his assistant Dale
The next match is at Newtown against NEWFA on 22nd February with a 7.30 pm kick off
REGIONS CUP
CWFA has entered the Regions Cup, a competition for representative teams of the Area Associations in Wales. Selection is limited to players who play for Tier 4 Clubs and below as it is a competition for Recreational level football. The first match against North Wales Coast FA is on Wednesday 8th February at Conway. The squad selected by manager Clive McNamee is;
Simon Hamer (Presteigne) Goalkeeper; Oliver Jones (Kerry) Goalkeeper
David Roberts (Waterloo) Defender; Zaac Emberton (Churchstoke) Defender; Ryan Evans (Trewern) Defender
Jodeci Dean (Maesyrhandir) Defender; Steff Rowlands (Abermule) Defender;
Huw McGrath (Kerry) Midfield; Barry Haralambous (Trewern) Midfield; Ben Thomas (Llandysul) Midfield
Joe Haycock (Churchstoke) Midfield; Adrian Hazelby (Landysul) Midfield; Stuart Buckley-Robins (Montgomery) Midfield
Dave Anthony (Abermule) Striker ; Luke Mumford (Kerry) Striker ; Khyam Wyton (Llanfyllyn) Striker
Max McLaughlin (Churchstoke) Striker
Good Luck
The next match will be at home against North East Wales FA on 22nd February at Newtown, ko 7.30 pm.
Coach Education Calendar – follow this link;
Grassroots Coaching Conferences – revalidation opportunity for expired or expiring coaches – free of charge.
Ø  12 March 2017 – Bangor University
Ø  19 March 2017 – Dragon Park
Ø  26 March 2017 – Newtown FC
Ø  9 April 2017     – University of South Wales
Ø  30 April 2017   – Glyndwr University
Ø  7 May 2017       – Coleg Sir Gar
now open for booking on www.fawcourses.com . The conferences are available for all coaches to revalidate their coaching qualification free of charge.
SAFEGUARDING COURSE
Course – Safeguarding Award
Venue – Newtown AFC
Date – 25th January
Time – 6.30pm
Booking – Login via Welsh football trust website
Availability – 6 places
FAW REVALIDATION REGIONAL CONFERENCE
Information from Mark Roberts, Level 2 Coach Education Manager at the FAW Trust:
Our Regional Grassroots Coaching Conferences across Wales, delivered to provide coaches who hold an FAW Football Leaders Award or C Certificate, the opportunity to gain 6 CPD hours towards revalidating their qualification.
I can now confirm all dates are now live via www.fawcourses.com and coaches can start registering for the awards; dates and direct links below.
12th March 2017 – Bangor University – https://www.fawcourses.com/products/12-march-2017—grassroots-coaching-conference–542
19th March 2017 – Dragon Park – https://www.fawcourses.com/products/19-march-2017—grassroots-coaching-conference–543
26th March 2017 – Newtown FC – https://www.fawcourses.com/products/26-march-2017—grassroots-coaching-conference–544
9th April 2017       – University of South Wales – https://www.fawcourses.com/products/9-april-2017—grassroots-coaching-conference–545
30th April 2017    – Glyndwr University – https://www.fawcourses.com/products/30-april-2017—grassroots-coaching-conference–546
7th May 2017       – Coleg Sir Gar – https://www.fawcourses.com/products/7-may-2017—grassroots-coaching-conference–547
If Coaches wish to book on multiple awards, they are best to access the following link – https://www.fawcourses.com/category/grassroots
If you have any further questions on the conferences, please contact Mark Roberts at FAW Trust;
mark.roberts@fawtrust.cymru or 01633 282911 or 07792 265764
NEW REFEREE'S COURSE
CWFA are holding a referees' course in the media room of Newtown FC starting January 9th 2017, 7pm until 9pm. The course will be held twice a week with the proposed exam date on Wednesday 1st February. The course dates are as follows:
All times 7pm – 9pm
Monday Jan 9th, Wednesday Jan 11th, Tuesday 17th Jan, Thursday 19th Jan, Monday 23rd Jan, Thursday 26th Jan, Monday 30th Jan, Wednesday Feb 1st
Twenty-two of our 95 registered referees have or would reach the current [working] retirement age in the next 5 years, with another 13 reaching that age in the next 10 years. The vast majority of these referees can officiate at Mid Wales League level and above. Given the increased demand at all levels above recreational football, there are insignificant numbers currently available should these referees' decide to retire whilst maintaining todays levels in the Montgomeryshire, Aberystwyth, Mid Wales South and Cardiganshire Leagues. Many reading this email will be aware of matches being played at recreational level without officials this season, where in an a ideal world CWFA would have at least another 13 registered referees' available. These projections don't account for referees' stopping ahead of time (due to relocation, work, personal, injury, abuse, etc) but a fair assumption is an additional 5 volunteers would be required every season on top of what is needed today.
For someone passing the exam in February 2017, it will take at least 3 seasons before they can officiate in the Mid Wales League. Whilst the recreational leagues would have an immediate benefit of a new volunteer, Aberystwyth, Cardiganshire and Montgomeryshire Leagues could experience a critical shortage in the next 5-10 years as referee's progress up the levels. An knock on effect for the Mid Wales League would be the reliance of having to use more officials from Radnorshire, which would mean an increase in travel expenses for some clubs. Debate may have to be had about having more mid-week fixtures at all levels to either save on travel expenses or spread a thinning pool of officials.
Although this course is being held in Newtown, CWFA would like to hold courses in other areas throughout 2017. To justify the cost, time and effort we need volunteers to put their name forward (of either sex and above 14 years of age) so that we know where the courses have to be held.
If anyone wishes to volunteer please send an email to refereesofficer@zoho.com with your contact details or call any of the phone numbers below.'
Assistant Referees Officers
Cardiganshire: Dylan Griffiths (07999345802)
Montgomeryshire: Ali Nicoll (07718914140)
Radnorshire: David Horne (07873 382085)
FAW Revalidation regional conferences
As you are aware, each year the FAW Trust runs Regional Grassroots Coaching Conferences across Wales in order to provide coaches who hold an FAW Football Leaders Award or C Certificate, the opportunity to gain 6 CPD hours towards revalidating their qualification.
Please see the confirmed dates below for each region
12th March 2017 – Bangor University
19th March 2017 – Dragon Park
26th March 2017 – Newtown FC
9th April 2017       – University of South Wales
30th April 2017    – Glyndwr University
7th May 2017       – Coleg Sir Gar
Please note that these dates are not yet available to book on www.fawcourses.com, however they will be launched in January and the Trust will advisewhen they have gone live on the website.
All of the conferences take place on a Sunday and the Trust is aware that Junior League matches are usually scheduled for a Sunday which may result in a conflict for some coaches.
Therefore, as in previous seasons and something that has worked extremely well previously, they once again kindly request, if where possible, that the dates above in our region are avoided when organising fixtures in order to minimise the potential barriers that coaches may come across when attempting to fulfil their CPD requirement.
Radnorshire Referees' Association of Wales Branch
The Radnorshire RA have secured the services of Eddie King, the National Assistant Referees Coach for a daytime session on Sunday November 20th at Builth Wells FC. It will be an outdoor and indoor session so it should be a good day. RRA would like to invite all CWFA referees to this event. There will be food provided as well after the session.
If interested please inform Chris Corfield directly using cdcorfield@btinternet.com ASAP.
LADIES FOOTBALL – TURN UP AND PLAY EVENT
There will be a turn up and play Ladies Football event on the 3G pitch at Latham Park Newtown on 6th November at 11.00 am.
Please help broadcast this event – poster attached please print off and distribute
REFEREES TRAINING EVENT
Central Wales Football Association are hosting a referee's training event on July 31st 2016 at 7.15pm (7.30pm start). This event is open to all grades of referees.
Location: Newtown FC, Latham Park, Newtown, SY16 1EN
Speakers: CWFA
Topics: 2016/17 Law Updates
RETURN SUBSTITUTIONS
Following the AGM of the Central Wales FA on 12th July 2016, a permanent Rule change has now been made allowing Return Substitutions in all Leagues and their associated cup competitions played exclusively at Recreational Level. Return Substitutions are also permitted in the J Emrys Morgan Cup which is a competition for clubs playing exclusively at Recreational Level.
JUNIOR LEAGUE REGIONAL BOUNDARIES
The Junior League Regional Boundaries as approved by the Council of the Central Wales FA are published in the Club Centre page of this web-site. Attention is also drawn to the Rule changes at Rules 12.10 to 12.12 of the CWFA Rules which you can download from the Rules page on this site
RULES UPDATE
At its AGM on 12th July, the Council of the Central Wales Association has adopted the rule changes circulated to Clubs prior to the AGM and which had prior approval of FAW. The up to date Rules can be found in the Rules page within this site together with the up to date Rules of the FAW. You will also find the CWFA's Social Media Policy and I take this opportunity to remind clubs, officials and players to be careful in the use of social media. We will and have taken disciplinary action against those who have used social media to bring the game into disrepute. We know intuitively where the line is drawn, do not cross it!
Message from Eleri Williams – McDonalds Community Football Days
Dear Clubs
Hope all is well and enjoyed the Euro 2016 tournament  
 For those who don't know me, my name is Eleri Williams and I am the Partnership Manager for the Welsh Football Trust, covering the Central Wales Region.
 Following on from the success in 2015, in which lucky winners enjoyed visits from Ryan Giggs and Craig Bellamy, the Football Association of Wales/Welsh Football Trust and McDonald's have now launched the 2016 Community Football Day. The McDonald's Community Football Day would create the opportunity to get more youngsters and parents actively involved in football, with an added opportunity for community clubs to increase membership. McDonald's Community Football day is a fun football festival day lead by the local football club to deliver a football opening to anyone and everyone.
If you are an accredited club and interested in running a community football day but haven't registered as of yet, then please follow the link below for more information and registration. Following registration, you will receive an online tool kit to assist you organising your club day.
Please note – Events to take place from now until August 31st 2016. We will also need information in relation to participation figures of the day by September 30th 2016.  
http://www.welshfootballtrust.org.uk/McDonaldsCommunityFootballDay.ink
All Clubs will receive a bag of footballs and a tool kit to support the running of the event.
If you need any additional support and guidance in running the event, then please do not hesitate to contact me via my email or number below.
Eleri Williams Partnership Manager
Welsh Football Trust / Ymddiriedolaeth Bel Droed Cymru Dragon Park, National Football Development Centre, NISV, Newport, NP19 4RA /
Parc y Ddraig, Y Ganolfan Datblygu Pêl-droed Genedlaethol, NISV, Casnewydd, NP19 4RA (Tel / Ffon)    07789371693
EDWINA EVANS
With sadness we report the passing of Mrs Edwina Evans the widow of our former Discipline Secretary, Secretary and President, MR D O Evans.
The funeral will take place in Kerry next Friday
CENTRAL WALES YOUTH CUP
Please note that this season's Central Wales Youth Cup Final will be played as follows:-
Friday April 29, 2016
Central Wales Youth Cup Final (at Newtown) (8.00ko)
Llanfyllin Town v Llanidloes Town  (Officials to be appointed)
TOM BRADSHAW
Congratulations to Tom Bradshaw on his first senior Welsh Cap last night in the warm up friendly against the Ukraine. Tom was a 70th minute substitute and did very well in the time he had.
Although born in Shrewsbury, Tom was brought up in Tywyn and played in the Bro Dysynni junior league. He was also a member of the Aberystwyth Town Academy and progressed to play for Aberystwyth Town first team including an appearance in the Welsh Cup final as a sixteen year old. Tom went on to join Shrewsbury Town before joining Walsall where he has been banging in the goals.
A proud night for Central Wales. Well done Tom and fingers crossed for selection for the Euros!
J EMRYS MORGAN CUP FINAL
Llandysul 0 v Llanfair United 2
Congratulations to Llanfair United on winning this season's J Emrys Morgan Cup.
Also a big 'Thank You' to CPD Penrhyncoch FC for agreeing to stage the game and their assistance in the Final arrangements.
MR KENWYN O PARRY
The funeral service of Mr Kenwyn Parry, Life Vice President of the Cambrian Tyres Aberystwyth League and President and loyal stalwart of Dolgellau AA FC, will be held on the 29th March, 12 noon, at the St Mary's Church, Dolgellau
REFEREES TRAINING COURSE
A new referees training course begins on 6th October at Aberystwyth Town Football Club, Park Avenue. The start time is 7.30 pm and the first session continues until 9:30 pm. There is a £15.00 examination fee.
If you are interested, come along and sign up for the course
INTER-ASSOCIATION COMPETITION
CWFA – U18 SQUAD WHICH PLAYERS WILL BE SELECTED FROM TO PLAY AGAINST THE NEWFA AT NEWTOWN PATHWAY LATHAM PARK.
ON WEDNESDAY 25th NOVEMBER 2015-8-00 pm
Jac Rimmer – Aberystwyth, Liam Jaques – Aberystwyth, Liam Berner – Aberystwyth, Gwion Pugh Jones – Aberystwyth, Thomas Jones – Aberystwyth, Sion Ewart – Bow Street, Alex Jones – Caersws, Ryan Davies – Hay St. Marys, Joshua Astley – Llanfair, Danny Foulkes – Llanfair, Oliver Woods – Newtown, Lyndon Jones – Newtown, Dafydd Carruthers – Rhayader, Kieron Jones – Machynlleth, Jacob Hutchson – Machynlleth, James Ingleston – Machynlleth, Ed Harding – Welshpool, Sam Evans – Welshpool, Sam Bowers – Welshpool, Steve Roberts – Welshpool
RULES UPDATE
Visit the Rules page to see the updated Rules of CWFA, the FAW Rules and the CWFA Social Media Policy.
If you have some helpful suggestions for the site please contact me, David Hinton Jones, General Secretary CWFA, dhjones@morrisbates.co.uk
We're getting there slowly!!