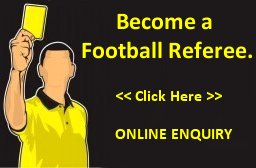 An Official Report Form for use by referees is now available in the Download section of this site. Completed report forms should be sent by e-mail to Mr Paul Morgan, Assistant Secretary Discipline to an e-mail address set up specifically for this purpose; cwfadiscipline@gmail.com
A Referee Registration Form is now available in the Download section of this site. Completed registration forms should be sent to;
Assistant Secretary Referees, Mr Dylan Griffiths, 47 Dol-Helyg, Penrhyncoch, Aberystwyth, Ceredigion. Sy23 3gz.
TEL: 01970 822202 MOB:07999345802  EMAIL: dylancwfa@gmail.com
If assistance is required in the filling of disciplinary forms or white paper reports, you can contact Mr Dylan Griffiths (details above), or any referees officer. refereesofficer.cwfa@zoho.com
Officials are reminded to wear a shirt and tie to all games from tier 4 upwards, all FAW appointments and to all Semi-Finals and Finals.
CWFA referees badges are available from Referees Secretary priced at £10 each.
Cardiganshire: Ali Nicoll (07718914140)
Montgomeryshire: Gareth Lloyd (07807176467)
Radnorshire: David Horne (07398190585)
REFEREE FORMS
referees-report-form-2016
Referee Report Form (Example)
List of CWFA Registered Affiliated Referees.
updated 4/11/2018
| | | | | | | | | |
| --- | --- | --- | --- | --- | --- | --- | --- | --- |
| Surname | Forename(s) | Grade | Address | Address | Post Code | Contact No | Email | |
| Arthur | Derrick | 3b | Welshpool | Powys | SY21 7TW | 07811600844 | derrickarthur6@gmail.com | |
| Bartram | Nathan James | 3a | Babbinswood | Powys | SY11 4PF | 07496315155 | njbartram@outlook.com | |
| Bayliss | Neil Llewellyn | 3a | Welshpool | Powys | SY21 7EA | 07891525001 | neil.bayliss@talk21.com | |
| Beamond | Jeff | 3b | Ludlow | Shropshire | SY8 4HH | 07789903600 | jeff.beamond@severntrent.co.uk | |
| Bird | Stuart Alan | 4b | Aberystwyth | Ceredigion | SY23 3EE | 07837221364 | stuartbird@hotmail.com | |
| Bodenham | Christopher William | 3a | Craven Arms | Powys | SY7 8JF | 07786001621 | chrisbod22@outlook.com | |
| Bradford | Stephen Lesley | 3a | Llandrindod Wells | Powys | LD1 6RY | 07583887673 | steve@tremontgarage.co.uk | |
| Childs | Thomas Richard | 3a | Worcester | Worcestershire | WR1 3NG | 07854231376 | tomchilds95@gmail.com | |
| Corfield | Chris | 3a | Llandrindod Wells | Powys | LD16 6LL | 07918700536 | cdcorfield@btinternet.com | |
| Curtis | Paul | 3a | Brecon | Powys | LD3 7TL | 07790389608 | paul_curtis50@yahoo.co.uk | |
| Davies | Gary Wyn | 3B | Aberystwyth | Ceredigion | SY23 4PB | 07841053486 | r4gwd@yahoo.co.uk | |
| Davies | John Wyn | 3a | Aberystwyth | Ceredigion | SY23 5DB | 07928023026 | n/a | |
| Davies | Ryan John | 3a | Oswestry | Shropshire | SY11 1HE | 07971226854 | ry77marv@aol.com | |
| Davies | Nicholas Shaun | 4b | Newtown | Powys | SY16 2HU | 07971339942 | nickdavies1234@hotmail.co.uk | |
| Davies | Michael John | 3a | Ystrad Meurig | Ceredigion | SY25 6EU | 07980948239 | davies.58@btinternet.com | |
| Davies | John David | 3b | Oswestry | Shropshire | sy10 9pz | 01691650273 | | |
| Earp | Gareth Stuart | 3a | Rhayader | Powys | LD6 5PL | 07739800529 | garethearp@btinternet.com | |
| Edwards | Richard Gwyn | 3a | Aberystwyth | Ceredigion | SY23 3LP | 07972216190 | repenllwyn@gmail.com | |
| Edwards | David William Nigel | 3b | Lampeter | Ceredigion | SA48 7EU | 07766102901 | yvonnethomaszz@yahoo.co.uk | |
| Evans | Alun Meirion | 3b | Lampeter | Ceredigion | SA48 8DP | 01570271175 | meirione1@gmail.com | |
| Evans | Rob | 3a | Bargoed | Mid Glam. | CF81 8RF | 07960110073 | robevs21@live.co.uk | |
| Evans | Thomas John Llyr | 3a | Cardigan | Ceredigion | sa43 2je | 07975826752 | welshchef82@hotmail.co.uk | |
| Evans | David Adrian | 4b | Aberystwyth | Ceredigion | SY24 5DF | 0785502600 | adeyevs@gmail.com | |
| Evans | Andrew John | 3b | Aberaeron | Ceredigion | sy46 0ex | 07980601904 | andyevans@dwrcymru.com | |
| Farrington | Mark Steven | 3a | Newtown | Powys | SY16 2JL | 07868526621 | mfaz100@hotmail.com | |
| Fisher | Stephen John | 3a | Llandrindod Wells | Powys | LD1 5YA | 07919176864 | stephenfisher80@msn.com | |
| Gary | Fernandez | 4c? | Brecon | Powys | ld3 7nw | 07484722302 | gs.fernandez@btinternet.com | |
| Gates | Sean | 4b | Machynlleth | Powys | SY20 8ES | 07870391174 | seangates07@hotmail.co.uk | |
| Gill | Dean | 4c | Welshpool | Powys | SY21 7QJ | 07810051102 | deaNGill30@googlemail.com | |
| Graham | Daniel | 4a | Oswestry | Shropshire | sy10 9py | 07772787030 | daniel.graham1985@yahoo.com | |
| Harding | Vaughan | 4b | Welshpool | Montgomeryshire | SY21 7HN | 07974176663 | Vaughan.harding@constructiv.co.uk | |
| Hearne | Jeffery | 3b | New Quay | Ceredigion | SA45 9TH | 07722224112 | jeffhearne@hotmail.co.uk | |
| Hodgetts | Matthew John | 4b | Oswestry | Shropshire | SY11 1QP | 07955919199 | mattyhodge78@hotmail.com | |
| Holder | Neil Francis | 3b | Llandrindod Wells | Powys | LD1 5DE | 07760625450 | neil.adeys@btconnect.com | |
| Hughes | David Michael | 3a | Welshpool | Powys | SY21 8RZ | 07800504091 | michaelhughes1956@btinternet.com | |
| Hughes | Joshua | 4c | Welshpool | Powys | | 07932526861 | Jols.hughes@hotmail.co.uk | |
| Ingram | Roy | 3b | Oswestry | Shropshire | SY10 9NE | 07427978290 | n/a | |
| Jenkins | Alan Lloyd | 3a | Carmarthen | Carmarthenshire | SA31 2JQ | 07887910997 | jenksalan1@hotmail.com | |
| Jenkins | Robert Ian | 1a | Guilsfield | Powys | SY21 9DT | 07534943715 | jenko29_89@hotmail.com | |
| Jones | Alaw Aur | F2a | Aberystwyth | Ceredigion | SY23 2BX | 07976467440 | alaw_cymru@hotmail.com | |
| Jones | Aled Rhys | 3a | Lampeter | Ceredigion | SA48 8RH | 07966506720 | aledrhysjones@hotmail.co.uk | |
| Jones | Glyn Elfyn | 3b | Machynlleth | Powys | SY20 8HN | 07717418107 | rockyjones85@googlemail.com | |
| Jones | Huw | 1a | | Powys | SY10 0LW | 07929001068 | huwjones73@gmail.com | |
| Jones | Susan Elizabeth | F2a | Newtown | Powys | SY16 2QE | 07460115537 | suejones3754@gmail.com | |
| Jones | Charles Raymond | 3b | | Powys | SY22 6TL | 07968170299 | | |
| Jones | Clive | 3a | Welshpool | Powys | sy21 8dz | 07813663464 | Clivejones008@btinternet.com | |
| Jones | Paul | 4b | Lampeter | Ceredigion | sa48 7hs | 07940455080 | paulnones@hotmail.com | |
| Kirkham | Paul | 3a | Knighton | Herefordshire | HR5 3AB | 07971711909 | kirkham428@btinternet.com | |
| Lewis | Cyril Joseph Arthur | 3b | Brecon | Powys | LD3 9PN | 07951137384 | joelewis2710@hotmail.co.uk | |
| Lewis | Gwilym Daniel | 3a | | Powys | SY17 5EN | 01686688586 | gwilymlewis@btinternet.com | |
| Lewis | Huw Owen | 3b | | Powys | SY22 6BZ | 01938500286 | n/a | |
| Lewis | Simon Neal | 3b | | Pembrokeshire | SA35 0BE | 01239698419 | nealagwenan@tiscali.co.uk | |
| Mantle | Paul John | 3b | Much Wenlock | Shropshire | TF13 6LR | 07779761425 | paulmantle436@btinternet.com | |
| Mantle | Ross | 4c | Ludlow | Shropshire | sy82 2qp | 0154874103 | ross.mantle2504@gmail.com | |
| Marfell | Huw John | 4a | Abergavenny | Monmouthshire | NP7 5YD | 07861459270 | huwmarfell1@hotmail.com | |
| McWilliam | Dave | 4c | Shrewsbury | Shropshire | sy5 0ul | 07983978306 | davemcwilliam@aol.com | |
| Mills | Andrew David | 3a | Llandrindod Wells | Powys | LD1 6EF | 07779158675 | andrewmillstreesurgeonandsons@hotmail.com | |
| Mills-Hogg | Joe | 4c | Welshpool | Powys | SY21 7BA | 07460091706 | Joemmillshogg@yahoo.com | |
| Milverton | Mark | 4a | Machynlleth | Powys | SY20 8PN | 07909902544 | milv1@aol.com | |
| Morgan | David Eirian | 3a | LLandysyl | Ceredigion | SA44 6EA | 07852855190 | carolhorne3@gmail.com | |
| Morgan | Huw | 4c | | Ceredigion | SA43 2EE | 07833962502 | rhywbeth@aol.com | |
| Morgan | Rhodri | 4c | Ystrad Meurig | Ceredigion | sy25 6eq | 07581453703 | rhodrimogz@hotmail.co.uk | |
| Morris | David Raymond | 3b | Cardigan | Ceredigion | SA43 1AZ | 07548219195 | n/a | |
| Osborne | Jack | 4c | Newtown | Powys | sy16 4db | 07939552310 | jdawgink@gmail.com | |
| Owen | William Caradoc | 3b | Aberystwyth | Ceredigion | SY23 1LS | 07522412469 | wowen67@hotmail.com | |
| Parker | Roger | 3b | Oswestry | Shropshire | SY11 2SF | 07927894521 | parkerroger1@aol.com | |
| Pearce | Joshua | 3b | Oswestry | Shropshire | SY11 2BL | 07794487463 | pearce.j@aol.co.uk | |
| Pickstock | Richard | 4c | | Powys | SY22 5BQ | 07816777732 | richardpickstock13@gmail.com | |
| Pryce | Edward Thomas | 3a | Llandinam | Powys | SY17 5BT | 07975741139 | eddie.pryce@btinternet.com | |
| Pugh | Michael David | 3a | | Shropshire | SY7 8AU | 07779553965 | mikepugh622@btinternet.com | |
| Richards | Callum | 3b | Brecon | Powys | LD3 6AY | 07960661346 | callumfootballfan@hotmail.co.uk | |
| Roberts | Wyn | 3b | Carmarthen | Carmarthenshire | sa39 9hh | 07527423863 | wynroberts26@icloud.com | |
| Rockley | Andrew Evan | 3b | Cardigan | Ceredigion | SA43 3AT | 07811414099 | androc9@hotmail.com | |
| Roper | Joshua John | 4c | Llanwnen | | sa48 7lf | 07749135744 | jroper1992@hotmail.com | |
| Rutter | Neil Brian | 3a | | Powys | SY15 6RD | 07854082410 | neilrutter@aol.com | |
| Sciberras | Mario | 3b | Aberystwyth | Ceredigion | SY23 3AF | 07980479055 | mariosciberras@hotmail.co.uk | |
| Sears | Connah Michael | 3a | Newtown | Powys | SY16 2DE | 07877515668 | connahsears1@gmail.com | |
| Stedman | Rhys John | 4a | Cardigan | Ceredigion | SA43 2RT | 07774002651 | Rhys.Stedman@wales.nhs.uk | |
| Stedman | Gavin | 4c | Boncath | Pembrokeshire | sa37 0hd | 07970966243 | gavinstedman@hotmail.co.uk | |
| Thomas | Alan John | 3b | London | | SW7 2PD | 07968702223 | ajtthomas7@yahoo.co.uk | |
| Thomas | Terry | 3b | Welshpool | Powys | SY21 9PL | 07539273102 | terry30dol1948@gmail.com | |
| Thomas | Herbert Alun | 3b | | Ceredigion | SA44 4UB | 07989218895 | elanwy.thomas@hotmail.co.uk | |
| Thomas | Martin | 4c | Oswestry | Shropshire | sy11 4da | 07831150261 | martin@thomascasserlys.com | |
| Thomas | Kian | 4c | Oswestry | Shropshire | sy11 4da | 07831150262 | martin@thomascasserlys.com | |
| Tinney | Allan | 3b | | Ceredigion | SY23 5HJ | 07738753666 | a.tinney53@yahoo.com | |
| Turner | Edward Glynne | 3b | Welshpool | Powys | sy21 9nf | 07803975849 | glynne7@icloud.com | |
| Ward | Declan | 4c | Newtown | Powys | sy16 1rj | 07532758123 | Deccieward15@icloud.com | |
| Waters | John Richard | 4b | Aberystwyth | Ceredigion | SY24 5ll | 07773023171 | watersjohn308@yahoo.co.uk | |
| Watkins | Thomsa | 4c | Welshpool | Powys | sy21 9pz | 07964450621 | Thomaswatkins43@icloud.com | |
| Wilding | Patrick | 4b | Welshpool | Powys | SY21 7HX | 07530073683 | patrick4736@gmail.com | |
| Wilding | Alice | F2a | Welshpool | Powys | SY21 7HX | 01938554736 | dawilding@tiscali.co.uk | |
| Williams | Alan Eastwood | 3b | | Powys | SY22 6DQ | 07583799745 | n/a | |
| Williams | David Edmund | 3b | | Powys | SY22 5BQ | 07815005932 | n/a | |
| Williams | Tim Mark | 3b | Caersws | Powys | SY17 5HQ | 07983617097 | tmw4@btinternet.com | |
| Williams | Huw Thomas | 3b | Morda | Shropshire | SY10 9RH | 07856621363 | huw1955@btinternet.com | |
| Wilson | Peter | 3b | St Dogmaels | Ceredigion | SA43 3EA | 07875578765 | peterjwilson777@hotmail.co.uk | |
| Wynn | Daniel | 4c | Newtown | Powys | SY16 2HY | 07938722281 | danielwynn84@gmail.com | |
| | | | | | | | | |
| | | | | | | | | |