Return to Play Information FAW and FAW Trust
Please find below documents, which share information regarding preparations for the return to play, specifically relating to timelines and competition start dates for next season, the registration of non-playing Club, League and Area Association personnel for next season, and the Club Accreditation Programme process for next season.
The first document provides a detailed breakdown of the information; the Summary document is a PowerPoint document providing a general, visual summary of the information.
Return to Play update 22.4.2021       Summary document – comms update 21.4.2021
Return to Play (Seniors)
The FAW has now published its Return to Play protocol for adults which is available here: Return to Play Protocols 26.04.21
The procedure for having friendlies sanctioned is the same for Adults as it is for Junior Players and now that the vaccination programme is well underway we have simplified the procedures but caution and compliance remain vitally important particularly as new variants can emerge.
The procedure which is the same for adults and seniors is as follows.
Clubs intending to host friendly matches must lodge a properly considered risk assessment with the League Secretary. This only needs to be done once, not for every match. An away team risk assessment is not required but the away team must be sent a copy of the risk assessment. It is the responsibility of clubs to carefully consider the risk assessment to protect the club against claims and allegations.
For each friendly a signed and dated Checklist A21 must be submitted. If the League secretary confirms to the Area Association that the home club has lodged a risk assessment and a properly completed and signed checklist A has been received the Area Association secretary will sanction the friendly. Checklist B21 is an aide memoir for the Covid Compliance Officer to assist with ensuring compliance. Checklist B is for club use only it does not need to be submitted to the League Secretary.
Here are the relevant documents.
Adult football
Checklist A21 Seniors Checklist B21 Seniors Sample Risk Assessment – Home Club Simple GDPR policy 21
Junior Football
Checklist A21 Juniors Checklist B21 Juniors CWFA Junior Risk Assessment sample Simple GDPR policy 21
The FAW Protocols for Junior Football are here:
Return to Play Protocols 27.03.21
Return to Football infographic FINAL 27.3.21
FA Wales x Literature Wales Cymru EURO 2020 Poetry Competition
The FAW & Literature Wales exclusive Cymru Euro 2020 Poetry Competition has relaunched today. The competition invites the children of Wales to submit poems on the theme of identity for a chance to win a host of fantastic prizes.
The competition is open to primary-aged children and poems can be submitted in Welsh or English. The competition was launched on BBC Radio Wales and BBC Radio Cymru this morning with both stations supporting the competition as it unfolds.
Joining two Cymru international footballers on the judging panel, are Eloise Williams (Children's Laureate Wales), Gruffudd Owen (Bardd Plant Cymru), and singer-songwriter Kizzy Crawford.
To commemorate the launch of this competition, Connor Roberts has recited a poem written by Bardd Plant Cymru, Gruffudd Owen on his interpretation of the theme of identity. You can watch the video, here.
Poems must be submitted on behalf of children by a teacher, parent or guardian. The deadline for entries is Thursday 20 May 2021. Please see further information on the competition and how entries can be made here ­­in Cymraeg and English.
It would be much appreciated if this information could be passed on to our young players, our friends and family members with children year 6 and under.
Welsh Football History
Please be advised that the email history@faw.co.uk has been created and any historical queries can be sent to that address.
Below is a link to a recent article written by 'Cymranian' after a local historian got in touch with a query regarding Iran vs Wales, 1978:
https://cymranian.blogspot.com/2021/04/terry-yorath-interview.html
If anyone is interested in what the History group are hoping to achieve then please do not hesitate e-mail the history team using the e-mail above.
Cymru v Denmark
The Welsh national ladies team are about to take on Denmark at the Cardiff City Stadium. You can watch it on the FAW hub.
Pob lwc Cymru!!
Reopening of the 2020-21 Amateur Registration Period
Please find uploaded here
An circular from the Player Registrations Department regarding the National League Boards recent decision to temporarily reopen the 2020-21 Amateur Registration Period but with caveats.  Full details can be found in the attached which should be carefully consulted as the reopening is specific and does not apply to all.
FAW Circular_2020-21 Amateur Registration Period_13.04.2021
An accompanying FAQ document.  This document is not just player registrations related and includes input from other departments on topical frequently asked questions regarding a range of subjects.
Return to Adult Play
The Football Association of Wales has welcomed the news today (9 April) from the Welsh Government that outdoor activity for up to 30 adults can now restart from 26 April instead of the previously set date of 3 May.
This will mean that clubs can seek permission to play friendly matches within the 30-person limit as and from 26 April. As a result, the FAW is reviewing its protocols and shall communicate them directly to Area Associations, Leagues and Clubs in the week commencing 12 April in preparation for the easing of restrictions.
Cymru v Canada
Tonight (9 April) Cymru take on Canada in an international friendly at the Leckwith Stadium (ko 6.00 pm). Its Gemma Grainger's first match in charge and we wish her all the best.
FAW Cup Conference Dates
The FAW National Cup Board has approved the FAW Cup Conference Dates for the 2021/22 season. These dates and more information on next year's competitions, can be found by following the link below.
FAW Cup Conference Dates Communication
New Online Referee Education Platform
John Bryant the FAW's Referee Recruitment and Retention Officer has today announced the launch of the new online Referee Education Platform which creates for the first time a standardised approach to refereeing education across all levels of refereeing in Wales.
Return to Play (Juniors)
Following the Welsh Government announcement and related guidance issued today, Friday 26th March 2021,  outdoor training and matches can resume for all U18 players from Saturday 27th March 2021. Return to Play protocols are now confirmed and are available by following the links below. FAW's COVID-19 Hub has also been updated to reflect the latest information.
Return to Football infographic FINAL 27.3.21
Return to Play Protocols 27.03.21
Given the short turnaround from Welsh Government confirming this news and football being able to return, a short video which explains the updated Return to Play protocols is available here.
Whilst we can look forward to seeing our young players back playing, all clubs and leagues wishing to take advantage of the new guidance must take the time to prepare appropriately for the safe return of football by following the necessary steps outlined in the Return to Play protocol document.
Girls Academy & Development Centre Update
There is an opportunity to nominate players for the Talent ID Showcase for the 2021/2022 season. This is the first part of a three stage talent identification process as FAW Trust looks to identify players for the FAW Trust Girls Academy Programme for 2021/22 season. To ensure that every talented girl in Wales has the opportunity, the first stage of the recruitment process is for players from the grassroots game only. The programme is eligible for players born between 2006 and 2009.
Here is a link to a video explaining the process and the players who they want to see at stage 1 and also an update on changes to the current Girls Performance Centres. Girls' Pathway Changes Video – https://vimeo.com/528420896/78446657fb
The Trust is inviting clubs from all across the nation to nominate players they feel would be suitable for the opportunity to showcase their talent. They appreciate that there may be a large talent pool within all clubs and consequently, anyone currently in either of the following DO NOT need nominating by clubs as they are currently in the pathway and these players will be considered soon in later stages by their staff in these programmes;
-Performance Centre
-Regional Squad
Clubs can nominate as many players as they feel are appropriate, (complete one form per player), however the Trust gives this advice:
Please be mindful that sending players who are not yet ready for this level may have an adverse effect, in that it could dishearten players or put them under unnecessary pressure for example, Furthermore this programme will include playing in boys academy level football which in itself is worth consideration when selecting players you feel will be suitable for this environment. Talent ID of the grassroots game will continuously happen throughout the season(s) following this so players will get other opportunities in the future, thus, there is no need to rush a player into this is they are not ready for similar reasons to the above, so please make your selections carefully and mindfully of what is best for the player at present.
Talent ID Showcase Nomination Form –  https://forms.office.com/r/3tjLXf2pMP
If there are any issues please don't hesitate to get in touch with the Trust at girlsacademy@fawtrust.cymru.
LOCKDOWN
Please see notification from FAW set out below
On 19 December Welsh Government announced Wales will enter an alert level 4 lockdown from midnight 20th December, for a minimum of three weeks, which will have an impact on football in Wales.
The Welsh Government has released detailed guidance and a Covid-19 control plan regarding the alert level 4 system that will be imposed.
As a result, football in Wales will be impacted in the following ways:
All non-professional and non-elite (as defined by Sport Wales from time to time) activity, including all junior football, detailed in the FAWs Return to Play Protocols, will be suspended during this period.
The FAW urges everyone to follow the Welsh Government guidelines during the alert level 4 lockdown to limit the spread of COVID-19.
The FAW is currently seeking clarification from the Welsh Government on the level of restrictions that will be in place following the end of this lockdown period, to ascertain what football activity can resume.
TIER 4 CLUBS – WGI APPLICATIONS
The WGI application process is now open to Tier 4 (Mid Wales League East and West)
Guidance Document link: WGI 2020 – 2022 Guidance to Applicants Web
FAW TIER 3 CLUB LICENSING – 2020/21 CORE PROCESS – APPLICATIONS OPEN
FAO: Central Wales Tier 3 & 4 Clubs:
Take note that clubs wishing to apply for a Tier 3 Licence for the 2021 / 22 season must make that application by 31st December
Please direct any questions to Steven Jones the Club Licensing Manager at FAW
Tel: 02920 435859
Mob: 07769356493
REQUEST FOR FRIENDLY APPROVAL/SANCTION
Applications for approval/sanction of weekend friendlies must be received by 6.00 pm on the preceding Wednesday. Applications will not be considered after that time.
For mid week friendlies two clear days notice is required so if your friendly is for a Wednesday evening match the application must be received by 6.00 pm Sunday, the two clear days being Monday and Tuesday.
The guidance for friendly matches in the Club Centre section of this web-site has been up dated and is reproduced here: FRIENDLIES-GUIDANCE
The CWFA checklist for friendlies is here: Return to Play checklist ver 3
The CWFA checklist for junior friendlies is here: Return to Play Checklist (Juniors) ver 3
BE ACTIVE WALES FUND
Good article in the County Times by Gavin Grosvenor which I hope will encourage Central Wales clubs to apply.
https://www.countytimes.co.uk/sport/18830576.new-fund-launched-help-welsh-sports-clubs-plan-future/?ref=twtrec
There's also information on the FAW web-site in the Covid 19 section
CWFA CONSULTATION WITH CLUBS
Throughout November CWFA will be holding Zoom consultations with clubs and League representatives. We would like at least one but no more than two representatives of each club to join the meeting and to be heard on a number of issues of importance to our leagues and clubs at this time. As well as club representatives, each consultation meeting will include the Officers of CWFA, the league secretary and league representatives on CWFA. The Agenda will be the same for all the meetings and the Zoom joining details will be sent out to club secretaries and each league secretary in advance of the meeting.
The meetings will start at 7.00 pm and are scheduled as follows;
The Scheduled meetings are as follows;
Tuesday 3rd November – Mid Wales League West
Tuesday 10th November – Mid Wales League East
Tuesday 17th November – Mid Wales League South
Thursday 19th November – Montgomeryshire Amateur League
Tuesday 24th November – Costcutter Ceredigion League
Thursday 26th November – Cambrian Tyres League
IMPORTANT MESSAGE RE APPLICATIONS FOR TIER 3 LICENCES
The message is for existing Tier 3 and Tier 4 Central Wales clubs
Follow the link for the FAW Tier 3 Club Licensing Core Process.
Core Process Document Deadlines 2020 21 TIER 3
Tier 3 and 4 clubs will be able to apply for the Tier 3 Licence, via the COMET system, from 1st October. The application window will remain open until 31st December 2020.
Please note that should an existing Tier 3 club wish to apply for a Tier 2 Licence, it should choose the 'complementary' option on COMET when applying for a Tier 3 Licence.
The Tier 4 Mid Wales League (Update)
The East Division is now finalised with the inclusion of Newtown Wanderers.
The Central Wales FA in conjunction with the Morris Marshall Poole with Norman Lloyd Mid Wales League is pleased to announce that having considered all applications received for the new Tier 4 Mid Wales League there will be a West Division and an East Division for season 2020/2021.
The clubs making up the West Division are confirmed as;
Dolgellau
Tywyn Bryncrug
Barmouth & Dyffryn
Dyffryn Banw
Borth Utd
Aberystwyth University
Tregaron Turfs
Aberaeron
Newcastle Emlyn.
The clubs making up the East Division are confirmed as
Brecon Corries
Bishops Castle
Churchstoke
Radnor Valley
Waterloo Rovers
Newbridge on Wye
Llanfyllin
Knighton
Presteigne
Llansantffraid
Builth Wells
Abermule
Forden Utd
Newtown Wanderers
Former Aberystwyth and District Junior League, Aberystwyth Academy and Aberystwyth Town FC player Alex Samuel holds aloft the League 1 play off final cup after his team Wycombe Wanderers beat Oxford 2-1 at Wembley. What a fantastic achievement for a home-grown Central Wales player. Congratulations Alex and all the best for the future.
TIER 3 SORTED!
Congratulations to all those Central Wales Clubs that have been granted a place in the new Tier 3 Regional Leagues.
It has been a long road and stressful for clubs at times but I'm sure the new leagues will be a success.
We now have the task of configuring Tier 4 and will do so as soon as possible.
IMPORTANT MESSAGE FROM FAW
The FAW has both received and welcomes the message from Welsh Government that 'low-contact' sport for groups of up-to 30 outdoors can resume from Monday the 13th of July.
The FAW and FAW Trust await the revised Welsh Government's Coronavirus Regulations together with the Welsh Government's updated guidance and will be working through the changes to translate this into easily understandable information to advise both clubs and individuals as soon as possible.
The FAW continues to work with Welsh Government and Sport Wales to develop a phased approach for the return of football in Wales.
Please check https://www.faw.cymru/en/covid-19/ for further updates.
SUCCESS FOR CENTRAL WALES FOOTBALLERS
Congratulations to Carrie Jones of Newtown who has earned the opportunity to join the Manchester United under 23 Academy. Carrie, who began her footballing career with Berriew Juniors, represented Cardiff City last season and is very excited about the move. We wish her continuing success with her football career..
We also wish Alex Samuel all the best as he may well line up for Wycombe Wanderers in the League 1 play off final at Wembley on 13th July. Alex formerly of Aberystwyth Town scored for Wycombe in the semi final against Fleetwood to help Wycombe secure their play off final place at Wembley.
Clarification on Welsh Government Regulations – Football Training
Please note the following important message from FAW.
The FAW is continuing to work with the Welsh Government and Sport Wales to develop an overall approach for the return of football in Wales. However, the current restrictions put in place by the Welsh Government mean that a return to team training is not yet possible.
Current regulations state that training individually or with members of your household in an open space is permitted. Additionally, individuals are able to undertake football practice with members of one other household in an open space provided the individuals remain 2m apart at all times, whilst following robust hygiene measures. However this does not mean that groups of people (a team perhaps) can arrange to train in pairs at the same time in the same open space, which would constitute a mass gathering and breach the regulations.
The FAW appreciates the desire for Clubs to return to training as soon as possible, but insists on compliance with the regulations, which will help us to return safely and as soon as possible in the future.
More information can be found online on the FAW's Covid-19 page: https://www.faw.cymru/en/covid-19/
For up to date COVID-19 advice from the Welsh Government, please visit: https://gov.wales/coronavirus
For further information on the Welsh Government's plans on the phased return of sport, please visit: https://gov.wales/sport-recreation-and-leisure-guidance-phased-return-html
As soon as the Football Association of Wales has more information regarding the return to training, we will be in contact with all clubs to provide further guidance.
FAW AMATEUR TROPHY
The FAW National Cup Board has extended the deadline for entry to the FAW Amateur Trophy to the 31st July to fall in line with the Tier 3 Certification process.
Entries for the competition is via COMET.
FAW CUP COMPETITIONS – ANOTHER DEADLINE TO NOTE
The entry for the 2020/21 FAW Cup Competitions is now open and entry is only available to buy through COMET.  Clubs will be able to see the 'products' in My Comet.  Club users (Club Manager, Club Manager (Junior) or Club Payment Administrator) can click on this link, log into COMET and they will be taken directly to the right product.
The Welsh Cup – https://mycomet-faw.analyticom.de/en/my-comet/itemDetails/4617286
FAW Welsh Women's Cup – https://mycomet-faw.analyticom.de/en/my-comet/itemDetails/4617295
FAW Amateur Trophy – https://mycomet-faw.analyticom.de/en/my-comet/itemDetails/4617299
The FAW Youth Cup – https://mycomet-faw.analyticom.de/en/my-comet/itemDetails/4617339
FAW Girls Cup – https://mycomet-faw.analyticom.de/en/my-comet/itemDetails/4617344
Clubs can also just log into COMET, click My Comet, then Products and find these under FAW, but the links are the easiest way.
The deadlines for the Welsh Cup, Women's Cup, Amateur Trophy and Youth Cup is at the end of the month – JUNE 30.
 Finally, please note that the National Cup Board has reviewed the Prize Money allocation for the Welsh Cup and we are delighted to confirm that prize money for the Welsh Cup is now payable for the winners of every tie in the Competition from Qualifying Round 1. Under the previous competition format, a maximum of 52 clubs gained prize money, but under the new format, this could be as many as 160. This ensures a wider distribution of prize money amongst more clubs. Any club which wins one tie on the competition will see a return on the entry cost. In order to achieve this new prize money distribution, the entry has been increased by £25.
FAW BOARD DECISION ON PROMOTION AND RELEGATION
FAW Board decision on promotion and relegation
As you will see the same principles will apply at Recreational Level. However, due to the change at Tier 4 there is still a need for Clubs wishing to be involved in the Mid Wales League for season 2020/2021 to make application to be admitted to the League notwithstanding any promotion or relegation issues.
IMPORTANT MESSAGE TO ALL CENTRAL WALES CLUBS
APPLICATION FOR ADMISSION TO THE MID WALES LEAGUE – RESPONSE DATE 30 JUNE 2020
Although these are very uncertain and worrying times for our Clubs for a whole host of reasons, the Central Wales FA (CWFA) has to plan for season 2020/21, whenever that season recommences.
Our Clubs may well be of the view that times are so uncertain that the future planning of football in Central Wales is not a priority. We share that concern. However, the landscape can change quite quickly and if it does and a safe return to football is possible your Area Association, has to be ready and we hope our Clubs understand that.
Application to be admitted to the Mid Wales League is open to all Central Wales Clubs.
The FAW is introducing 4 new regional leagues at Tier 3 of the FAW Pyramid for season 2020/21. Only leagues at Tiers 1 – 3 will be directly affiliated to FAW. CWFA will be responsible for leagues at Tier 4 and below.
Inevitably, the introduction of these new leagues has a significant impact in the Central Wales Area more so than any other Area in Wales. Whereas historically, the pathway for Clubs in Central Wales has been north to the Cymru Alliance the pathway is now north or south from Tier 4 to the regional leagues at Tier 3.
A number of clubs in the MMP Mid Wales League Division 1 have made application to be admitted to a Tier 3 Regional League. As yet we do not know which of those clubs will be successful. Ground inspections are still taking place. Clubs that have applied to be admitted to a Tier 3 league should also apply to join the Mid Wales League at Tier 4 in case the application to a Tier 3 league is not successful.
All applications will be treated as confidential until 1st July or until the applications for Tier 3 have been determined, whichever is later. This applies to all clubs not just those that have applied to Tier 3.
CWFA intends to consolidate the Mid Wales League as the senior league in the Area and to provide for West and East Divisions to give credibility to the opportunity for Clubs to follow a pathway north or south. By providing East and West divisions the travelling commitment for clubs is reduced making the Mid Wales League accessible to all the regions of the Central Wales area.
Earlier this season CWFA asked for expressions of interest and based on the responses received we are satisfied that West and East divisions are viable. However, these are uncertain times and if two divisions are not viable there will be a single league and clubs that applied to play in either a West or East division would then be offered the opportunity to withdraw. A single division would increase the travelling commitment and cost for clubs.
Clubs will note from the general proposals that if there are West and East divisions CWFA will be able to help mitigate the travel costs of the longer distance games. Indeed, the entire approach of CWFA has been to devise a competition at Tier 4 which is manageable for our clubs.
Clubs should note that if on the basis of applications received a two division Mid Wales League is a viable option then an application submitted by a club will represent a clear commitment to be part of the league if the application is successful.
Please find ;
The selection of Clubs for the new Tier 4 Mid Wales league will be in the sole discretion of the Mid Wales League Executive Committee supported by Officers of the Central Wales FA. The committee will meet to determine the criteria to be applied.
The return date is 30th June 2020.
OPT OUT FROM FAW NATIONAL RESERVE LEAGUE
DEADLINE – 30TH JUNE 2020
The FAW is introducing an FAW Reserve League for season 2020/21 for Clubs competing at National Level at Tiers 1 – 3 of the FAW Pyramid. The reserve teams of Clubs participating at Tier 1 – 3 of the FAW Pyramid will be required to participate in one of the regional divisions of the FAW Reserves League. It is envisaged that there will be a Mid Wales FAW Reserves League. Accordingly, this message is only for clubs that compete or have applied to compete at Tier 1 – 3 of the FAW Pyramid.
When the proposal of a National Reserves League was first approved by the National Game Board it was acknowledged that; 
"…although the preference was to have all Directly Affiliated League Clubs playing within Directly Affiliated Leagues, there was a need to consider allowing some more rural Clubs to participate within Area Association Leagues, in order to ensure that provision was available on a more local basis. Members recognised that this flexibility was more important than participants potentially dropping out of football."
Some Central Wales Clubs at Tiers 1-3 will not have reserve teams. Others have reserve teams which presently play on a local basis in Area Association competitions at Recreational level at Tier 5. Clubs need to appreciate that participation in a Mid Wales Reserve League is likely to involve significant additional travel.
In order to address these concerns FAW is introducing a Policy which is in effect an opportunity to opt out of the FAW Reserve League. The policy has been approved and is entitled 'Football Association of Wales Policy in respect of National League Clubs Reserve Teams Participating in Area Association Competitions.'
 In order to take advantage of the opt out, Clubs participating at Tiers 1 – 3 will need to apply in writing to the Board of the National Reserves League, FAW 11/12 Neptune Court, Vanguard Way Cardiff CF24 5PJ by 30th June demonstrating to the reasonable satisfaction of the Board that the cost and burden of travel within a Mid Wales National Reserve League would be prohibitive.
A possible list of clubs making up a Mid Wales Reserve League was considered by the National League Board as set out below. This is reproduced here to give Clubs some idea of the likely travel commitment and cost of entering a reserve team in the FAW Mid Wales reserve league compared to the travel commitment and cost of competing on a local basis in an Area Association competition at Tier 5.
Aberystwyth; Newtown; Guilsfield; Llanfair Utd; Penrhyncoch; Aberaeron; Bow Street; Caersws; Dolgellau; Four Crosses; Kerry; Llandrindod Wells; Llanidloes; Penparcau; Welshpool
Some of the above mentioned Clubs will not have reserve teams, some may not be at Tiers 1-3 in season 2020/2021. Some Clubs not mentioned above may be included such as Llanrhaedr Y Mochnant. The list is for illustrative purposes only.
Remember that the deadline for applying for authorisation to play a reserve team in an Area Association league is 30th June 2020.
COMET Registrations
Urgent message from FAW
The registration of all coaches, referees and club/league/Area Association officials lasts for one season and therefore in relation to the 2019/20 season, all of these registrations ended at midnight on 31st May 2020. All coaches, referees and club/league/Area Association officials have therefore received a system generated email overnight to inform them that their registrations have been terminated.
FAW has received a high number of queries  in relation to the above and has now issued the following messages:
To all registered referees in the CWFA area
 All referee registrations are valid for one season and in relation to the 2019/20 season, all referee registrations therefore expired at midnight on 31st May 2020. This explains why all referees received a system generated email overnight to inform them that their registration has been terminated.
 On 28th May 2020, a communication update was emailed to all registered referees which they should all take time to read – this document contains the above information and also informs all referees that the registration process for the 2020/21 season will start from 22nd June 2020.
2. To to all CWFA clubs and leagues. Its important that  clubs and leagues pass this information on to their coaches and officials.
The registrations of all coaches and/or club/league officials are valid for one season (this information is contained on the registration forms and is also included within the emails coaches and club/league officials receive when their registrations are confirmed on COMET)
 This means that in relation to the 2019/20 season, all coach and club/league officials registrations expired at midnight on 31st May 2020 and explains why all coaches and club/league officials have received a system generated email overnight to inform them that their registration has been terminated
 Coaches and club/league officials will be able to re-register on COMET for the 2020/21 season from 22nd June 2020.
URGENT STATEMENT BY THE COUNCIL OF THE CENTRAL WALES FOOTBALL ASSOCIATION
This statement concerns the proposed changes to the FAW Rules for consideration by the Members at the Annual General Meeting.
The Council of the Central Wales FA (the Council) is vehemently opposed to the proposed amendment to FAW Rule 59 and replacement of Rule 62 within Proposal 3 which will remove the exceptions to the so-called 'one player, one club' rule.
Rule 59 presently reads;
Subject to Rule 62, a Player may only be registered with one (1) Club at a time.
Rule 62 contains a number of exceptions to the 'One Player, One Club' rule which have proved very important to the sustainability of grassroots football in Central Wales, in particular Junior/Academy football and Youth Football.
Presently, the exceptions allow a junior player to register for a junior club and an Academy. Without doubt, our junior leagues and Academies benefit from that exception. The exceptions also allow a youth player with one of our adult clubs to also register for a youth team of another club and without that exception the Mid Wales Youth league would not survive.
These exceptions are not, and have not been compatible with the FIFA one player, one club rule for a number of seasons. The Council understands that the exceptions cause difficulty for the Comet Player registration system which is designed to comply with the FIFA Rules. This season Comet was modified to allow certain exceptions but these modifications may not be compatible with the new FIFA Connect computer system and may expose FAW to a financial penalty for breach of FIFA Rules and Regulations if the exceptions are maintained.
Whether or not these changes are 'computer' driven or simply a FIFA directive the Council is dismayed at the lack of consultation over alternative arrangements and ideas to preserve the opportunity for dual registrations where they are necessary for the growth and sustainability of the game in certain regions of Wales.
Accordingly, the Council is unanimous that these exceptions are so important that it would urge our Qualifying Clubs to vote against the proposed amendment to Rule 59 and the proposed replacement of Rule 62 by voting against Proposal 3.
Unfortunately, Proposal 3 is a composite proposal which includes other Rule changes which are or might be beneficial. Nevertheless, the Council regards the issue as important enough to invite rejection of Proposal 3 in its entirety. For the avoidance of doubt, the Council has no issue with the other composite proposals numbered 1,2, 4 and 5 and CWFA will vote in favour of those other proposals.
The Rule changes and the Proxy voting form have been sent to the secretary of each Qualifying Club. Urgent action is required as the voting form must be returned to FAW by no later than Tuesday 26th May 2020. It can be returned;
By post to: The CEO, Football Association of Wales, 11/12 Neptune Court, Vanguard Way, Cardiff CF24 5PJ
By e-mail: as an attachment to an e-mail sent to JFord@faw.co.uk
By fax: 029 2049 6953
STAY HOME AND BECOME A REFEREE
We're encouraged to learn a new skill during lock-down. Its the perfect opportunity to take the online course to become a referee and the cost is discounted. Become a qualified referee for only £25.00.
113 persons have so far taken up the offer so it's proving very popular.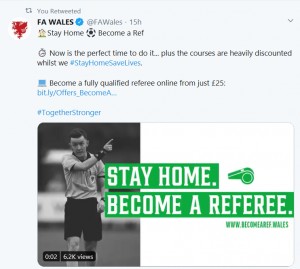 New Referees Regulation handbook
Referee Regulations – Handbook 2018-2019 (12.03.2020) (Clean)
IMPORTANT ANNOUNCEMENT FROM FAW
The Football Association of Wales has taken the decision to extend the current suspension of all domestic football in Wales until at least Friday, 15th May 2020 due to the COVID-19 pandemic.
Last month, the FAW's Board of Directors (20 March) exercised their powers to indefinitely extend the 2019/20 season for all National Leagues, National Cup Competitions and the FAW Futsal League.
The current working documents for the Cymru Leagues and Welsh Premier Women's Leagues have been shared with Clubs, in order to find a solution for the resumption of football when it is safe to do so.
The statement below, previously issued by our insurance providers Bluefin, is still in effect.
"Neither the Countycover Liability insurance package or Personal Accident insurance arranged through the Football Association of Wales will respond to claims if clubs continue to provide sessions which is against the advice of the Government and Governing Body.
"This includes clubs arranging matches, training sessions, friendlies, competitions and tournaments.
"Furthermore, as Personal Accident insurance does not provide cover in respect of Sickness, Disease or Illness, there is no cover for a person contracting COVID-19 whilst playing or training.
"There is an obligation for all officials to take all reasonable precautions to ensure the wellbeing of members and we thank you for your co-operation at this unprecedented time."
Above all, the most important priority for the FAW is the health and wellbeing of everyone. The FAW encourages everyone to follow the advice of the UK & Welsh Governments and Public Health Wales. Our thoughts are with everyone affected by the pandemic.
MR TONY SQUIBB
It is with great sadness that I report the death this morning of Mr Tony Squibb a long time servant of football in Central Wales and a life member of the Central Wales FA.
Our thoughts are with his family and friends at this sad time.
ANNOUNCEMENTS
In the near future there will be important announcements relating in particular to the COMET System which is now being rolled out throughout the Central Wales Area
Information will be sent to Club secretaries. Make sure we have the correct details for your club secretary. You can check on this web-site.
Click on the 'Directory' tab on the top banner. Then click on full member clubs. This will open a word document, either immediately or at bottom left of your screen which you will need to click on.
Find your club, find your secretary and check the details (especially the e-mail address) are accurate. Any changes, let me know.
FAW GRASSROOTS COACHING QUALIFICATION EXPIRY DATES TO CHANGE
The expiry dates of Football Association of Wales grassroots qualifications is changing.
On April 1, 2020, expiry dates of level one and level two qualifications will change from December 31 to May 31.
This is to further enhance and support the alignment of coach education, club accreditation and the recent addition of the coach registration process, via Comet.
For example, if a coach attends a Football Leaders Award on or after April 1, 2020, the expiry date on the certificate will be May 31, 2023.
A coach who completed the Football Leaders Award on January 30, would have expiry date on the certificate will be December 31, 2023.
If you have a certificate with an expiry date of December 31, this will stand until revalidation. Once you attend the relevant revalidation events, the new expiry will show as May 31.
THIS CHANGE WILL AFFECT THE FOLLOWING COURSES:
FAW Football Leaders Award
FAW Goalkeepers Award
FAW First Aid for Football Award
FAW Safeguarding Award
FAW Futsal Award
FAW Coaching Footballers with a Disability
FAW C Certificate
FAW C Certificate Coaching Goalkeepers
FAW C Certificate Intensive
FAW C Certificate Youth / Senior Workshops
THE FOLLOWING COURSES WILL REMAIN AS THE 31 DECEMBER, TO FOLLOW THE UEFA COACHING CONVENTION:
UEFA B Licence
UEFA B Residential
FAW B Licence Coaching Goalkeepers
UEFA A & Elite Youth A Licence
UEFA Pro Licence
Please direct any queries to the FAW Trust coach education admin team
Coronavirus update
The FAW has just issued the following statement
The Football Association of Wales has today (13 March) taken the decision to suspend domestic football at all levels in Wales with immediate effect until 4 April due to the COVID-19 outbreak.
The intention at this time will be to resume the football schedule depending on the medical advice and conditions from the relevant authorities at that time.
The FAW is fully aware of the impact this will have on the domestic game but the health and safety of all fans, players, volunteers and stakeholders are of paramount importance.
The FAW will continue to monitor this situation on a day-by-day basis and will continue to provide updates when appropriate
That is the position we must now adopt. Therefore all domestic football in the CWFA area is suspended until 4th April.
Coronavirus
Today the UK Government announced that in respect of the Coronavirus or Covid-19 it is moving from the containment phase to the delay phase the aim being to delay as long as possible the general spread of the virus to beyond the usual winter pressures phase that the NHS faces each year to help ensure that there is capacity to deal with the additional pressures that the spread of this virus will inevitably bring.
CWFA would want to play its part in delaying the spread of the virus and therefore we are monitoring developments in case a decision needs to be taken to postpone organised local football in our area.
At present we do not need to consider postponement for the following reasons;
Schools are not being closed and juniors running around outside in the fresh air is likely to be less risky than confinement in a class room.
Generally speaking, ambulance staff, doctors and police officers do not attend our adult or junior fixtures so there is no direct risk to NHS or other emergency services through our local football events.
There will be concern that social gatherings of over 500 persons are now banned in Scotland but we do not have events that are likely to attract such large crowds.
The important message at this stage is that any players, supporters, coaches, parents, club or match officials with a new and persistent cough and/or a temperature should not attend any local football events and training indoors should be avoided. If in doubt stay at home.
It would be helpful if Leagues and clubs helped to convey that message.
Mr Gareth Evans
We have today been informed of the sad passing of former referee Gareth Evans who passed away this morning.
Gareth was an excellent, well respected and well known referee and a former player with Crannog FC
Our heartfelt condolences go out to his family
The 2020 McDonald's FAW Grassroots Football Awards
The nomination window for the 2020 McDonald's FAW Grassroots Football Awards is now open.
The Awards celebrate the hard work of the unsung heroes who make grassroots football happen week-in, week-out.
Award Categories
Volunteer of the Year
Community Club of the Year
Community Coach of the Year
Best Grassroots Football Story
Fun Football Provider of the Year
To submit a nomination please visit the following link:  http://www.fawtrust.cymru/grassroots/fun-football/awardsnominations/
The nomination window closes at 23:59 on March 15th 2020.
FOOTBALL LEADERS COURSE
Still places left on the Football Leaders award next Sunday.
Sunday 1st December @ Newtown FC
https://www.fawcourses.com/products/1-december-2019—faw-football-leaders-award-2610
REFEREES COURSE
The next course will be held in Newtown Football Club, Central Wales on Sunday 24th November, 11am.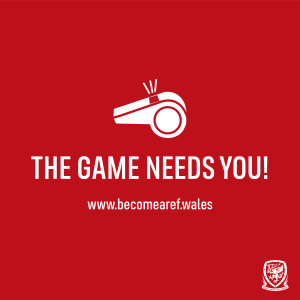 Follow the link www.becomearef.wales to the Referees Education Web-site and sign up!
LIVE DRAWS!!
The draws for the CWFA Senior Cup and Emrys Morgan Cup will be made live on the new CWFA Facebook page on Thursday 19 September at 6.30pm.
facebook.com/mediacentralwalesfa/
COMET PLAYER AND COACH REGISTRATION TRAINING
As you will know, the COMET Football Management System will be used by all football clubs, leagues, area associations and referees in Wales from the 2019/20 season.
All clubs will need to register their players, coaches and club officials on COMET before the 2019/20 season.
The FAW has organised training sessions aimed at football club administrators and will offer full training in the use of the COMET Football Management System. Training sessions will take place around Wales in May and June 2019 and all clubs will need to send a representative.
PLEASE CLICK HERE TO REGISTER FOR COMET PLAYER AND COACH REGISTRATION TRAINING
FAW McDonald's Grassroots Awards – Nominations close at midnight on Sunday May 5th 2019.
You can now vote in the following categories for FAW McDonald's Grassroots Awards?
Categories
Community Club of the Year
Community Coach of the Year
Grassroots Project of the Year
Junior League of the Year
Fun Football Provider of the Year
Referee of the Year
Young Volunteer of the Year
Outstanding Achievement Award
Volunteer of the Year
All nominations will be passed to a regional panel which will be made up of an Area Association rep, Football Development Manager and McDonald's Franchisee owner.
From these regional winners, a national winner will be selected for each of the above categories.
National winners will be invited to the award ceremony on Sunday October 13th 2019 which will be at the Wales v Croatia game at Cardiff City Stadium.
Nominations can be made via the link below:
www.fawtrust.cymru/grassroots/fun-football/community-football-awards/
New 2019, FAW C Certificate(s)
Here is the link to the courses for 2019
https://www.fawcourses.com/category/faw-c
As always, the courses include a large variety of type of awards and venues across Wales, to ensure no matter the coaches circumstances, there is an award for a coach to access.
Full 100% course funding can be attained through the Sport Wales, Community Chest Grant or further funding opportunities are available through the FAW at the FAW Trust.
McDonald's/FAW Fun Football Festival
CPD Penrhyncoch to hold McDonalds Fun Football Festival – 14 July 2019
The aim of the event is to encourage new players to participate in the game for the first time.
As part of the prize for being selected, McDonald's will set-up a ' Fun Football Zone' which includes an inflatable pitch, speed shot, inflatable dribble activity and an inflatable goal – The primary audience for this zone will be children who are not participating currently in club football activity.
PYRAMID RESTRUCTURE – PROPOSAL FOR TIER 4/TIER 5
As you may be aware the FAW is seeking a change to the Pyramid Structure  providing new competitions at Tier 3 which will be under the direct jurisdiction of FAW. Under the proposals Tier 4 and below will be the responsibility of the Area Associations. Because of these changes each Area Association has had to consider the impact of the changes and what if any new competitions should be considered.
To this end CWFA established a Pyramid Restructure review committee and that committee has prepared the attached proposals which outline new competitions at Tier 4. These proposals have been accepted and approved by the Council of CWFA.
Assuming the FAW Pyramid changes are approved by the membership, CWFA will shortly be asking clubs to express interest in applying to be included in the new leagues at Tier 4 from season 2020/2021.
We shall also be seeking to appoint a committee to be responsible for administering the new leagues.
Appendix A Tier 4 Ground Criteria
LADIES CUP
The draw for the semi finals of The Ladies Cup was recently made and is as follows:
Sunday 24 February (ko 2pm)
Aberystwyth University v Lampeter
Felinfach v Llanfair/Aberystwyth
YOUTH CUP
The draw for the 1/4 Finals of The Youth Cup was recently made and is as follows:
Sunday 20 January (ko 2pm)
Aberystwyth v Brecon Northcote
Sunday 27 January (ko 2pm)
Bow St v Newcastle Emlyn
Llanidloes v Llanfair
Machynlleth v Llanilar
LET THERE BE LIGHT!
On Wednesday 5th December the new floodlights at Machynlleth FC will have their official opening with a big switch on for a friendly match between Machynlleth and Welsh Premier League Champions TNS at Cae Glas – kick off 7.30 pm. Get there if you can. Adults £3.00, Under 16's £1.00, OAP's £2.00. As well as the match there will be a raffle and and auction including signed shirts.
The draws for The Senior Challenge Cup and J Emrys Morgan Cup were made live on facebook last Thursday evening at the CWFA Council meeting and are as follows
SENIOR CUP
Guilsfield v Radnor Valley
Llangedwyn v Talgarth
Welshpool v Llanilar
Forden v Caersws
Llandrindod Wells v Builth Wells
Carno v Padarn
Berriew v Churchstoke
Kerry v Llandysul
Llanidloes v Penrhyncoch
Newbridge v Abermule
Bow St v Llansantffraid
Aberaeron v Llanfair
Rhayader v Llanrhaeardr
Twywyn/Bryncrug v Trewern
Hay St Mary's v Ffostrasul
Four Crosses v Bishops Castle
Matches to be played on or before Sunday 6 January 2019
J EMRYS MORGAN CUP
Llanboidy v Crannog
Guilsfield Res v Llanilar (will be played on Saturday 26 Jan)
Churchstoke Res/Llanfyllin v Bishops Castle
Penparcau v Padarn
Talybont v Trefonen
Tregaron v Lampeter
Bow St Res/Forden v Llanrhaeadr Res
Llanymynech v St Dogmaels
The conference date is Saturday 19 January 2019.
CWFA Ladies Cup
1st Round ties for this Sunday 4 November.
Round 1 (ko 2pm)
Aberystwyth University v Penrhyncoch (Mario Sciberras)
Llanfair v Aberystwyth (Eddie Pryce)
FOOTBALL LEADERS AWARD
An FAW Football Leaders Award is scheduled for the CWFA area on Sunday 18th November with a number of candidate places available if required by any Clubs/Coaches in the area;
Sunday 18th November – Ysgol Bro Teifi, Llandysul – 18 candidates registered at present.
Candidates can visit www.FAWcourses.com or follow the link – https://www.fawcourses.com/category/training in order to register for the Award.
CWFA Youth Cup Round 1 results 
Newtown 0 v Aberystwyth 4
Ffostrasol 3 Llanidloes 4
Welshpool 1 Newcastle Emlyn 2
Machynllyth w/o Berriew
Llanilar w/o Llandysul
Brecon Northcote w/o Rhayader
Byes Bow St and Llanfair
CWFA Referee of the Month
Stuart Bird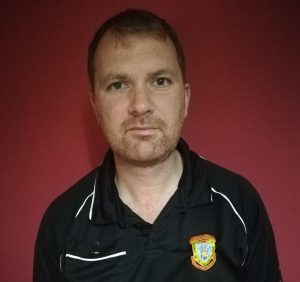 Father of four, Stuart Bird had his playing career cut short by an injury sustained playing in the Welsh Cup in 2010. Stuart went on to manage Llanrhystyd FC in the Cambrian Tyres League before becoming a referee as a way of staying in the game and keeping fit.
"If you're thinking about it, then go for it" he said. "It's the best decision I have made. I enjoy walking off that pitch, knowing I have refereed the game to the best of my ability and getting told how well I have done by supporters and players."
He did his Referees course at Aberystwyth Football Club and is pleased with the level of support he receives. He's often the referee in games involving his friends, "the look on my mates' faces when I pull out a yellow card is funny to say the least."
At the moment Stuart happy officiating at local level, but one day, when his children are older he would like to ref at a higher level.
CWFA SENIOR CUP NEWS
Following this weekends postponements in The Senior Cup the outstanding ties will be played as follows:
FRIDAY 9 NOVEMBER (ko 7.30pm) (extra time and pens if required)
Presteigne v Hay St Marys
SATURDAY 10 NOVEMBER (ko 2pm) (Extra time and pens if needed)
Machynlleth v Forden
Llandysul v Dolgellau
Aberystwyth University v Llansantfraid Village
Talgarth Town v Newcastle Emlyn
Penparcau v Rhayader
Dyffryn Banw v Newbridge On Wye
Tregaron Turfs v Ffostrasol
Four Crosses v Llanymynech
Borth v Llanilar
Padarn w/o Brecon Northcote (Northcote withdrew)
Bishops Castle w/o Bont (Bont withdrew)
BYES: Kerry, Bow St, Llanidloes, Builth Wells, Caersws, Berriew, Aberaron, Llanfair U, Churchstoke, Carno, Radnor Valley, Tywyn/Bryncrug, Guilsfield, Welshpool, Llandrindod Wells, Penrhyncoch, Llanrhaead YM.
Results so far 
Trewern 3 Waterloo Rovers 1
Abermule 2 Penybont 1
Llangedwyn 4 Montgomery 3
2ND ROUND J EMRYS MORGAN CUP
The draw for the 2nd Round of The Emrys Morgan Cup has been made. The Conference date has been moved 1 week due to a clash with re arranged Senior Cup ties.
The draw is as follows
SATURDAY 17 NOVEMBER (ko 2pm)
Ffostrasol v Llanboidy
Llandysul v Lampeter
Trewern v Penparcau
Bow St Res v Forden
Talybont v Four Crosses Res
Penybont v Tregarron
Meifod v Llanilar
Churchstoke Res v Llanfyllin
Brecon Northcote v Bishops Castle
Llanymynech v Llanfair Res
Talgarth v Guilsfield Res
Padarn v Cardigan
Crannog v Newcastle
Trefonen v Newcastle Emlyn
Aberaron Res v St Dogmaels
Llanrhaeadr Res v Borth Res
The draw for The CWFA Youth Cup has been made and is as follows:
CWFA Youth Cup- Sunday 21 October (ko 2pm)
Newtown v Aberystwyth
Ffostrasol v Llanidloes
Welshpool v Newcastle Emlyn
Berriew v Machynlleth
Llanilar v Llandysul
Brecon Northcote v Rhayader
Byes: Bow St, Llanfair Utd.
CWFA SENIOR CHALLENGE CUP
The draw for the first round of The CWFA Senior Cup is as follows:
SATURDAY 13 OCTOBER (ko 2.30pm)
Extra time and penalties if required.
Padarn United v Brecon Northcote
Trewern v Waterloo Rovers
Machynlleth v Forden
Llandysul v Dolgellau
Aberystwyth University v Llansantfraid Village
Talgarth Town v Newcastle Emlyn
Penparcau v Rhayader
Dyffryn Banw v Newbridge On Wye
Tregaron Turfs v Ffostrasol
Abermule v Penybont
Llangedwyn v Montgomery Town
Four Crosses v Llanymynech
Borth v Llanilar
Bishops Castle v Bont
Presteigne v Hay Sy Mary's
BYES: Kerry, Bow St, Llanidloes, Builth Wells, Caersws, Berriew, Aberaron, Llanfair U, Churchstoke, Carno, Radnor Valley, Tywyn/Bryncrug, Guilsfield, Welshpool, Llandrindod Wells, Penrhyncoch, Llanrhaead YM.
FAW Long Service Award
LES PITT
Les Pitt was a junior player for Presteigne St Andrews and was captain of his team. He became a committee member in 1964 and has been an 'ever present' ever since both as committee member and social committee member.
He has been President of the club and Secretary. He is presently Minutes Secretary and runs the very successful 100 club.
His support and enthusiasm for the club has never dimmed. He's a fount of knowledge when it comes to the history of the club and is held in high esteem throughout Mid Wales football.
Les was recently presented with the Long Service Award by Phil Woosnam, FAW Council member and Secretary of the MMP with Norman LLoyd League.
CWFA Referee of the month
TOM CHILDS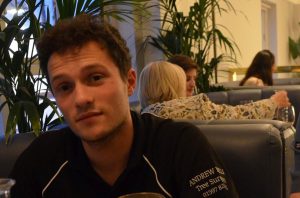 Trainee teacher Tom Childs from Builth Wells became a referee in 2014 after suffering a nasty shoulder dislocation playing for Builth Wells.
'I had done some coaching, but I wanted to be out there on the pitch, actively involved, feeling part of the game'
He contacted the CWFA Referees Officer and before long he attended a course in Talgarth and qualified as a referee.
'There's a lot of support for new referees, you feel part of a team'. Tom is now in the Central Wales Referee Development Group and is a member of the Radnorshire Referees Association. He's appointed to MMP Division 1 and 2 games but has the ambition to referee at Welsh Premier League level.
Tom has been involved in some interesting incidents. 'I once sent a player off for biting – on Halloween!'
Tom would advise anyone thinking of taking up the whistle to go for it. 'I can honestly say, I have enjoyed refereeing more than I enjoyed playing'.
J Emrys Morgan Cup
The draw for the 1st Round of the J Emrys Morgan Cup has been made.
The conference date is Saturday 29 September ko 2.30pm
(Extra time and penalties if required)
Round 1
Kerry Res v Talybont
Llandrindod Wells Res v Newcastle Emlyn
Trefonen v Llanfechain
Trewern v Dewi Stars
Penybont v Bargod Rangers
Llangedwyn v Bishops Castle
Maesglas v Padarn Utd
Llanwddyn v Lampeter Town
Llanon v Meifod
Llanboidy v Welshpool Res
Llanymynech v St Harmon
Newtown Wanderers v St Dogmaels
Aberporth v Guilsfield Res
Waterloo Res v Newcastle
Brecon Northcote Res v New Quay
Caersws Res v Llanfair Utd Res
Felindre v Crannog
Aberaeron Res v Abermules Res
Tregaron Turfs v Felinfach
Aberdyfi v Cardigan
Llanidloes Res v Penparcau
Four Crosses Res v TSDUC
Bow St Res v Presteigne Res
Penrhyncoch Res v Borth Utd Res
Knighton Town Res v Forden
Maesyrhandir v Ffostrasol
Llanilar v Builth Wells Res
Llandysul v Machynlleth Res
Llanfyllin v Hay St Marys Res
Talgarth Town v Bont
Byes: Llanrhaedr YM, Churchstoke Res
The 8 ties in bold
The match dates for the 8 ties in bold will be confirmed following the Welsh Cup 2nd Round draw.
VOLUNTEER OF THE MONTH
CAROL WILLIAMS
COACH AT BERRIEW FC JUNIORS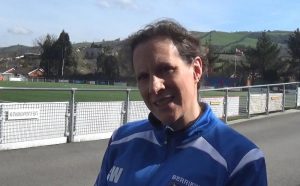 Mother of four boys, Carol Williams took up coaching in 2013 when her son Charlie joined the Berriew Juniors U9 side.
Carol played some football when she was younger but coaching has given her the opportunity to get involved in and give something back to her local community.
Carol has an FAW Leaders Award and is now aiming for the next level of her coaching journey.
In the past year she says she has seen an increase in the 'support and encouragement offered to women and girls to get involved in the game in any aspect'.
"It does keep me very busy but the children love it and it helps keep me fit and it's a nice way to wind down after a week working in the office.
"It gives me a great perspective as the kids just come along to have fun."
"I'm quite happy where I am at the moment and I enjoy working with the kids but the C Certificate is something I would like to do in the future.
"I'm always looking for new ideas to help keep the kids involved, keep their enthusiasm up and keep them coming back.
"I love sharing ideas with other coaches and adapting them for my own players."
Carol hopes that the women's game in Wales will continue to grow and that more girls are encouraged to not only play football, but to get involved in sport in general and hopefully gain the confidence to consider future careers in the field.
BECOME A REFEREE
You can now do an online course
Follow this link: http://www.becomearef.wales/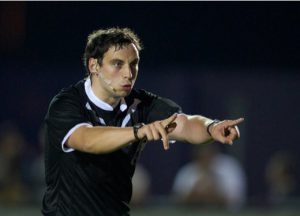 SUSPENSION LIST
CWFA Ladies Summer Tournament – Sunday 8th July – Latham Park, Newtown
Come down to Latham Park Newtown to watch the Ladies Tournament from 10.30 am
The tournament features a number of top teams from across Wales and provided great entertainment last year.
We look forward to seeing you there on Sunday.
With Club accreditation now upon us please note the following opportunities for Level 1 coaches new and old.
8 July 2018 – Football Leaders Award
Location: Aberystwyth Town FC
Course Date: 8th July 2018
Course Time: 9-5pm
17 July 2018 – FAW First Aid Award
Location: Aberystwyth Town FC
Course Date: 17th July 2018
Course Time: 6:30pm – 9:30pm
Level 1 Coaches Revalidation Opportunities;
FLA – FAW C Certificate, Bridging the Gap Workshop – August 8th (3 Hours)
Location: Aberystwyth Town FC
Course Date: 8th August 2018
Course Time: 6:30pm – 9:30pm
22 November 2018 – McDonalds Revalidation Workshop – " Managing the Environment " (3 Hours)
Location: Aberystwyth Town FC
Course Date: 22nd November 2018
Course Time: 6.00pm – 9.00pm
30 September 2018 – Pitchero Grassroots Coaching Conference (Final Third) – (6 Hours)
Location: Newtown AFC
Course Date: 30th September 2018
Course Time: 9.00am – 4.30pm
 Each of these Awards / Workshops are now 'live' and available to book via www.fawcourses.com
FAW Football Leaders Award – Sunday 8th July 2018 @ Aberystwyth Town FC     
This course is now 'live' and available to book via www.fawcourses.com
Challenging Racism in Football – National Anti-Discrimination Workshop
FREE COURSE
Date: 6th Aug 2018
Venue: Llanidloes Town Football Club, Victoria Avenue, Llanidloes, SY18 6AS
Time: 6:30 – 8:00pm
Booking: to book onto the workshop visit: https://www.eventbrite.co.uk/e/srtrc-national-anti-discrimination-workshop-cwfa-llanidloes-town-fc-tickets-46750842027
Follow the link to book on to the course
REGIONAL REFEREE DEVELOPMENT OFFICER
FAW are now advertising for vacant Regional Referee Development Officer positions within Areas.
If interested follow this link;
http://www.faw.cymru/en/about-faw/fa-wales-vacancies/regional-referee-development-officers/
SAFEGUARDING AND ACCREDITATION ROADSHOW AT NEWTOWN FC – JULY 18TH
Just a reminder about the upcoming Safeguarding & Accreditation Roadshow taking place on Wednesday 18th July at Newtown FC.
Would all leagues and clubs RSVP to Daniel Jose at FAW  DJose@faw.co.uk  by Wednesday July 4th as we want to ensure the event is well attended.
Leagues and clubs will find the Roadshow very useful in relation to dealing with a broad range of Safeguarding queries as well as the Club Accreditation scheme.
If you have any queries regarding the event don't hesitate to get in touch with Daniel Jose.
CENTRAL WALES YOUTH CUP
A Matthew Jones hatrick sealed victory for Aberystwyth Town Youth 4 – 1 against Rhayader Youth at Llanidloes. Congratulations to Aberystwyth Youth.
CENTRAL WALES SENIOR CHALLENGE CUP
Caersws saw off a late comeback by Guilsfield to with the Challenge Cup 4 – 3 at Llanidloes. Congratulations to Caesws FC
FAW Football Leaders Award
29 April 2018 – Football Leaders Award @ Aberystwyth Town FC
 The FAW Trust is holding an FAW Football Leaders Award at Aberystwyth Town FC on 29th April. Clubs may well have potential coaches/volunteers who may need this award, particularly for junior club accreditation purposes.
Candidates can book a place on the website www.FAWcourses.com or by following the link – https://www.fawcourses.com/category/training
CWFA LADIES CUP FINAL
Congratulations to Lanfair Utd Ladies who on Friday 13th April overcame Aberystwyth Town Ladies 3 – 2 to win the CWFA Ladies Cup
FAW C Certificate, 2018-19
To support preparations for next season, the Trust has launched its 2018-19 FAW C Certificate which includes a variety of awards nationwide, including their inaugural FAW C Certificate, Intensive course, supporting coaches to complete their Level 2 in Coaching qualification across a 5-day period.
As always, their team of staff are in place to support any questions or queries your coaches may have, and to support any applications towards Sport Wales, to attain the full 100% funding for the FAW C Certificate, Course.
Lawrence Badman – Gwent, South and West Wales
Guy Handscombe – North and Central Wales
Here is the link to the FAW C Certificate homepage for candidates to register for their designated course – https://www.fawcourses.com/category/faw-c
For all existing, FAW C Certificate holders (or FAW Football Leaders Award holders) the Trust has also launched a 18-month revalidation calendar, with over 300 places per region available on their website free of charge, to ensure all coaches maintain their qualifications, these courses can be found https://www.fawcourses.com/category/faw-revalidation (FLA holders only) and https://www.fawcourses.com/category/grassroots (FLA and FAW C Certificate holders)
J EMRYS MORGAN CUP FINAL
Congratulations to Newcastle Emlyn FC winners of the J Emrys Morgan Cup. Newcastle Emlyn overcame Four Crosses 5 – 0 in the final held at Newtown on Good Friday.
REGIONS CUP MATCH RESULT
The CWFA representative squad put in a great effort at Bala last night eventually going down 4 -2 to North East Wales FA. CWFA were a goal down after only 30 seconds and 2-0 down at half time. however, CWFA battled back to draw level at 2 -2 with a brace from Khyam Witton of Llanrhaedr. Unfortunately, perhaps due to tiredness, CWFA gave away two late goals in the last 5 minutes. Overall a good performance.
CWFA was determined to enter the Regions Cup and apart from the home result against North Wales Coast our teams have proved themselves close to the standards of the other regions at this level. We have always regarded this first re-entry to the competition as an opportunity to learn more about it and our approach generally. We had a short lead in period so our trials had to catch up with games that had already taken place. We will now have a de-brief, learn from our mistakes and in order to improve generally for the next round of matches. If anyone, players, coaches, club secretaries etc would like to contribute constructive comments about the Regions Cup experience, please e-mail dhjones@morrisbates.co.uk with your comments. I will keep names of contributors confidential.
REGIONS CUP MATCH REARRANGED
The Regions Cup match between NEWFA and CWFA has been rescheduled for Tuesday 6th March 2018 at Bala kick off 8.00 pm
REGIONS CUP POSTPONEMENT
The Regions Cup match between NEWFA and CWFA which had been due to take place at Airbus tonight has been postponed due to the weather uncertainties.
WALES ACADEMY SUCCESS
Liam Doherty and Harri Horwodd of the Aberystwyth Town FC Development squad were prominent for the Wales Under 18'S Academy team as they beat the Republic of Ireland 0 -2 to reclaim the John Coughlan Memorial Cup.
It was Doherty's strike that forced the Irish goalkeeper into a save that rebounded to Horwood to open the scoring in the 70th Minute.
Two other youngsters from the Aberystwyth Town Development squad were involved in the Wales Under 18 squad, Lee Jenkins and Alex Pennock. Congratulations to them and Aberystwyth Town.
REVALIDATION
2018, Level 1 revalidation dates are now live and available for booking via website – https://www.fawcourses.com/category/faw-revalidation
Coaches can now book onto any of the available free opportunities in order to gain the required revalidation hours they may need.
An FAW Football Leaders Award holder must attain 6 revalidation hours prior to their qualification expiring – (All Awards have a December/Year end expiry date).
Coaches can either attend;  
2x 3 Hours 'McDonalds Revalidation Workshops'
OR
1x 6 hour 'Pitchero Grassroots Coaching Conference'.
 The current process;
 All FAW Awards have a lifeline of 3-years with an end month of December. For example, "I completed my award in March 2015, my expiry date would be, December 2018"
Within this 3 year(!) time period, all Level 1 coaches must complete a minimum of 6-Hours on an FAW Revalidation Course.
 Level 1 FAW Football Leaders Award opportunities to revalidate;
1, Complete x1 Regional Grassroots Coaching Conference (6 hours in length). A minimum of 1 course is held per region, per season (10-am until 4-pm).
Dates are now live and available for booking on our website – https://www.fawcourses.com/category/grassroots
2, Complete x2 McDonalds Revalidation Workshops (3 hours in length). Several courses held per region, per season (Typically 6:00pm – 9:00pm).
These opportunities are now available for booking on our website –  https://www.fawcourses.com/category/faw-revalidation
Once a coach has completed their 6 hours of revalidation they will be issued with a new certificate and new expiry date. For example, "I completed my Award in March 2015, my expiry date would be December 2018, I have completed my required revalidation hours within this time period… my new certificate will be issued and will show a new expiry date of December 2021".
Please take advantage of these opportunities as early as possible – should this be left until the end of the 3rd year of qualification coaches may find that opportunities to revalidate are limited.
REGIONS CUP RESULT
CWFA had a difficult night at Park Avenue as NWCFA ran away with the match 1 – 9. CWFA will play their last match in the competition away at Airbus next Wednesday.
REGIONS CUP REMINDER
CWFA take on NWCFA at Park Avenue Aberystwyth on Wednesday night (21st February) kick off 8.00 pm. Promises to be a great match so come along and support.
FAW Coaching Footballers with a Disability Award
 This is an Internal Award being hosted by Llanidloes Town Football Club.  If you have any interested candidates who wish to access this Award please inform Andrew Lewis FAW Trust andrew.lewis@fawtrust.cymru; this Award is not currently advertised online at FAWcourses.com
Award Type – FAW Coaching Footballers with a Disability Award
Date – Sunday 29th April 2018
Venue Address – "Llanidloes Town Football Club, Victoria Ave, Llanidloes SY18 6AS"
Course Time: 9.00am – 4.00pm
 This is a six-hour practical course which follows on from the completion of 5 Online Modules, providing coaches with an insight into adapting coaching sessions for disabled footballers in a fun and safe environment. The course will assist, supplement and support coaches existing experiences in this field.
REGIONS CUP CORRECTION
The contact telephone number for Andy Evans is: 07807 978729, kick off on 21st February at Park Avenue will now be 8.00 pm
AMENDED REGIONS CUP CONFIRMED FIXTURES
The confirmed Regions Cup fixtures are as follows;
CWFA v NWCFA – Wednesday 21st February – Park Avenue Aberystwyth – 8.00 pm
NEWFA v CWFA – Wednesday 28th February – Airbus – 8.00 pm (confirmed) (this KO time could be brought forward to 7.45 or 7.30 if players prefer)
It is one of the problems of the geographical make up of CWFA and the fact that we are in a group against northern regions that the travelling distance for South Ceredigion players is significant. But there is also the problem of pitch availability which means that our efforts to play away games as close as possible to CWFA cannot always be achieved.
CENTRAL WALES REGIONS CUP SQUAD
GOALKEEPERS
SIMON HAMER – PRESTEIGNE
JUSTIN SMITH – ST. DOGMAELS
OUTFIELD
ZAC EMBERTON – TREWERN
DAVID LAIRD – KERRY
JASON WILLIAMS – ST. DOGMAELS
MARK EVANS – LAMPETER
CHRISTY GALE – LAMPETER
RYAN EVANS – WELSHPOOL
BARRY HARALAMBOUS – TREWERN
SAM SKINNER – NCE
CRAIG GORDON – NCE
KHYAM WITTON – LLANRHAEDR
RHUN GARNER – BOW STREET
ADRIAN HAZELBY – NCE
HUW JONES – NCE
GEORGE COLVEM – CRANNOG
PAUL JAMES – PADARN
ON STANDBY
JODECI DEAN – CAERSWS RESERVES
STEFF ROWLANDS – ABERMULE
RHYS JONES – ST. DOGMAELS
RHYS DAVIES – CRANNOG
Due to a change in his circumstances Clive Mcnamee has asked not to continue in his role as manager. We respect his decision and thank him for his help and support in getting CWFA's involvement in the Regions Cup underway. Accordingly, former professional footballer and B Licence coach, Andy Evans will manage the team for the next two games. Players can contact Andy to confirm availability at andyevo75_@hotmail.com or 07807 978729.
REGIONS CUP
The squad for the next regions cup match will be announced here on Monday evening (5th February).
Football Leaders Course
There is an FAW Football Leaders Award planned for this coming Sunday, 7th January at Lampeter Leisure Centre.
Furthermore there are 42 cases across our respective junior leagues where coaches qualifications have expired – attendance at Sundays Award would validate the coaches within these leagues for a further 3 years.
To book a place on the course contact Andrew Lewis andrew.lewis@fawtrust.cymru
AFFILIATION FEES – NADOLIG LLAWEN/MERRY CHRISTMAS
The Council of Central Wales FA wants all our leagues, adult and junior clubs and referees to benefit in its 50th anniversary year and has therefore resolved that for season 2018/2019 there will be an Affiliation Fees amnesty for our leagues and clubs (a registration fees amnesty for referees).
Leagues and Clubs will still have to apply to affiliate to CWFA and clubs will still have to pay the fees for entry to CWFA cup competitions but the fee for affiliation to CWFA will be waived for season 2018/2019.
Merry Christmas and a happy and successful New Year.
LEARNING DISABILITY FOOTBALL
The FAW Trust is currently seeking players to represent Wales in the upcoming Home Nations Championship in Belfast this April, and therefore would appreciate any support in helping to identify potential players.
Here are some key points:
Players play 11-a-side football with no adaptations
Players are highly skilled and generally play mainstream football
Players age 15 and older, and under 19 years of age on 31st March 2018 (Born after 1st April 1999, Born on or before 1st April 2003)