Referees
Here is the current list of registered referees
REFEREEING IS FOR EVERYONE – WHY NOT BECOME A REFEREE
INTERESTED? Follow this link: becomearef.wales
REFEREES COURSES:
The new Online Referees Course by the FAW, is currently priced at £70 which includes the cost of a full referee kit. 
You will receive the kit when you pass the course and it will have the logo of your Area Association, plus all basic equipment to start your refereeing venture. Getting the kit from one supplier means every referee starts out looking identical. Same uniform if you like. 
So, think again. Be brave, make that decision. Become a ref.
FOR REGISTERED REFEREES
ALL DISCIPLINARY REPORTS ARE NOW TO BE MADE ON COMET. PLEASE DO NOT SEND TO C.W.F.A. DISCIPLINARY SECRETARY (UNLESS ASKED TO DO SO)
A WHITE PAPER REPORT FOR C.W.F.A. AFFILLIATED COMPETITIONS MAY BE SENT TO THE DISCIPLINARY SECRETARY IF PREFERRED.
PLEASE MAKE EVERY EFFORT TO LOOK AT THE REFEREEING WALES SITE (LINK BELOW), IT' A SUPPORT SITE FOR REFEREES AND HAS VERY USEFUL INFORMATION AND VIDEOS.
Match Official Registration – Existing Match Officials
A guide to show match officials who have previously been registered on COMET how to renew their membership for the new season.
Renewing your Referee Registration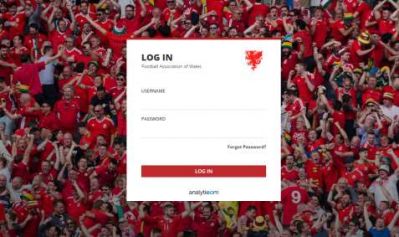 Referee registration needs to be renewed on an annual basis.
At the end of the season you will receive an email to let you know that your registration for that season has been terminated.
Ahead of the date when referee registration opens, you will receive a further email which will include links to the referee registration products that can be purchased through MyComet.
You will need to click on the link for the Area Association you wish to affiliate to, or the FAW link if you are an elite referee. If you referee across multiple areas, simply select the product relating to the Area you are likely to officiate within the most.
If you register early you may be eligible for an early-bird registration offer so please ensure you click on the correct link according to the date you are registering.
When you click on the link, you will be taken to the COMET log in screen.
Log in with your usual COMET log in details.
Adding the referee registration to your MyComet cart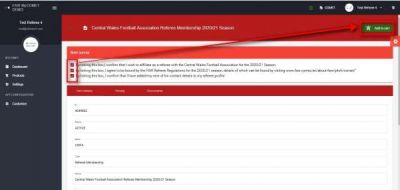 When you have logged into COMET, you will be taken directly to the page of the relevant referee registration product.
You will need to tick the three check boxes to agree you wish to affiliate as a referee with the listed organisation, agree to abide by FAW rules and regulations, and confirm you have added your next of kin contact details to your referee profile (this is mandatory from the 2020/21 season in case of emergency – please see the Adding and Updating Personal Information user guide for further information).
When the boxes are ticked, click Add to cart.
Viewing the registration in your MyComet cart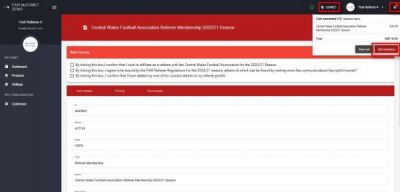 When you click Add to cart, if you have not filled in all the mandatory information in your COMET profile, you will receive an error message and be unable to progress with paying for the referee registration.
To return to COMET to fill in the mandatory fields or update your profile, click COMET at the top of the page.
If you are able to proceed, click on the shopping trolley icon at the top right of the page, then, if you are happy that the registration listed is the one you want to purchase, click Cart summary.
Checkout summary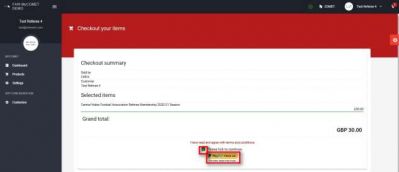 You will now see the Checkout Summary page, which gives you a chance to check the registration product and price.
When you have read the terms and conditions (accessed though clicking on the "terms and conditions" text), click the checkbox and the PayPal checkout button.
Logging into PayPal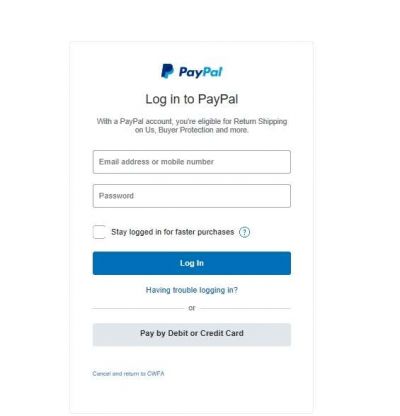 Assistant Secretary Referees, Mr Dylan Griffiths, 47 Dol-Helyg, Penrhyncoch, Aberystwyth, Ceredigion. Sy23 3gz.
TEL: 01970 822202 MOB:07999345802  EMAIL: dylancwfa@gmail.com
If assistance is required in the filling of disciplinary forms or white paper reports, you can contact Mr Dylan Griffiths (details above), or any referees officer (Mr Gareth Lloyd at glloydcwfa@yahoo.com  or Mr David Horne at davidhorne53@gmail.com)
Officials are reminded to wear a shirt and tie to all games from tier 4 upwards, all FAW appointments and to all Semi-Finals and Finals.
CWFA referees badges are available from Referees Secretary priced at £10 each.
REFEREES OFFICERS:
Montgomeryshire: Gareth Lloyd (07807176467)
Radnorshire: David Horne (07398190585)
NOTE:
Referees registered with Area Associations must wear the official badge of the AreaAssociation to which they reside and the badge of the league they officiate if they so wish.
Only match officials with the below gradings are eligible to wear the new FAW Crest:
Category One- Referee
International (FIFA List)
1A           Cymru Premier referees
1B           Cymru Premier talent referees
Category Two:
Cymru South/North referees
ASSISTANT REFEREE PATHWAY
International (FIFA List)
1AR        National list specialist assistant referee
1ART      Specialist assistant referees at Tier 2 but have been identified as assistant referees with       potential and are eligible to be appointed to Tier 1 matches from time to time
2AR        Specialist assistant referee at Tier 2
FEMALE PATHWAY
Category One – Referee
F              International (FIFA List)
F-1A       National list referee
F-1B       National list talent referee
Category One – Specialist Assistant Referee
F              International (FIFA List)
F-1AR    National list assistant referee
*******************************************
*******************************************
Dylan Griffiths
*****Here is a link to the IFAB website updates;*****
https://www.theifab.com/log-documents
KEEP UP TO DATE