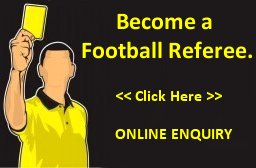 ALL DISCIPLINARY REPORTS ARE NOW TO BE MADE ON COMET. PLEASE DO NOT SEND TO C.W.F.A. DISCIPLINARY SECRETARY (UNLESS ASKED TO DO SO)
A WHITE PAPER REPORT FOR C.W.F.A. AFFILLIATED COMPETITIONS MAY BE SENT TO THE DISCIPLINARY SECRETARY IF PREFERRED.
Assistant Secretary Referees, Mr Dylan Griffiths, 47 Dol-Helyg, Penrhyncoch, Aberystwyth, Ceredigion. Sy23 3gz.
TEL: 01970 822202 MOB:07999345802  EMAIL: dylancwfa@gmail.com
If assistance is required in the filling of disciplinary forms or white paper reports, you can contact Mr Dylan Griffiths (details above), or any referees officer (Mr Gareth Lloyd at glloydcwfa@yahoo.com  or Mr David Horne at davidhorne53@gmail.com)
Officials are reminded to wear a shirt and tie to all games from tier 4 upwards, all FAW appointments and to all Semi-Finals and Finals.
CWFA referees badges are available from Referees Secretary priced at £10 each.
REFEREES OFFICERS:
Montgomeryshire: Gareth Lloyd (07807176467)
Radnorshire: David Horne (07398190585)
REFEREE FORMS
referees-report-form-2016
Referee Report Form (Example)
NOTE:
Referees registered with Area Associations must wear the official badge of the AreaAssociation to which they reside and the badge of the league they officiate if they so wish.
Only match officials with the below gradings are eligible to wear the new FAW Crest:
Category One- Referee
International (FIFA List)
1A           Cymru Premier referees
1B           Cymru Premier talent referees
Category Two:
Cymru South/North referees
ASSISTANT REFEREE PATHWAY
International (FIFA List)
1AR        National list specialist assistant referee
1ART      Specialist assistant referees at Tier 2 but have been identified as assistant referees with       potential and are eligible to be appointed to Tier 1 matches from time to time
2AR        Specialist assistant referee at Tier 2
FEMALE PATHWAY
Category One – Referee
F              International (FIFA List)
F-1A       National list referee
F-1B       National list talent referee
Category One – Specialist Assistant Referee
F              International (FIFA List)
F-1AR    National list assistant referee
*******************************************
*******************************************
REFEREES COURSES:
The new Online Referees Course by the FAW, is currently priced at £80. It is the opinion of many, I'm led to believe, that it's too expensive. 
The previous courses, which were held in a classroom, was £15. So why the increase? 
The new course, when you qualify and pass the exam, you will receive a kit, with logo of your Area Association, plus all basic equipment to start your refereeing venture. Follow the link for more information.
Is it worth it? 
Yes. Quite simply, yes. 
Previously, you would pay £15 for the course, but then the kit would cost in excess of £100. Depending on your choice of kit, might be more.
And getting the kits from one supplier means every referee starts out looking identical. Same uniform if you like. 
So, think again. Be brave, make that decision. Become a ref.
Dylan Griffiths
CWFA Referees Secretary
*****Here is a link to the IFAB website updates;*****
https://www.theifab.com/log-documents
(Copy and paste in your search bar)
Current list of registered referees. If you are not on it, you are not registered. (I am aware that some grading is incorrect, and I'm in the process of amending)
| | | | | |
| --- | --- | --- | --- | --- |
| Name | | Tel | Email | Location |
| Neil Llewellyn Bayliss | 3 | 07891525001 | Neil.Bayliss@cpat.org.uk | Welshpool |
| Christopher William Bodenham | 3 | 07786001621 | chrisbod22@outlook.com | Craven Arms |
| Steven Bradford | 3 | 07583887673 | steve@tremontgarage.co.uk | Cross Gates |
| Michael Ronald Coburn | 3AR | no number provided | drmike245@gmail.com | Ellesmere |
| Christopher Corfield | 3 | 07918700536 | cdcorfield@btinternet.com | Llandrindod Wells |
| Paul Anthony Curtis | 3 | 07790389608 | paul_curtis50@yahoo.co.uk | Brecon |
| Christopher Luke Davies | 4c | | cippy15@hotmail.com | Trefeglwys |
| John Wyn Davies | 3 | 07928023026 | johnwyn59@outlook.com | Aberystwyth |
| Kieran Thomas Davies | 4c | | | Oswestry |
| Nicholas Davies | 3 | 07971339942 | nickdavies1234@hotmail.co.uk | Newtown |
| Ryan Davies | 3 | 07971226854 | ry77marv@aol.com | Oswestry |
| Steffan Rhodri Davies | | 07975718687 | 1agerycwm@gmail.com | Aberystwyth |
| Gareth Stuart Earp | 3 | 07739800529 | garethearp44@gmail.com | Rhayader |
| Christopher Edwards | 4c | | edwards.chris84@yahoo.com | Meifod |
| Dion Edwards | 4c | not confirmed registration | | Newastle Emlyn |
| Richard Gwyn Edwards | 3 | 07972216190 | repenllwyn@gmail.com | Aberystwyth |
| Alun Meirion Evans | 3(Retired) | 01570271175 | meirione1@gmail.com | Felinfach |
| David Adrian Evans | 4b | 07885502600 | adeyevs@gmail.com | Aberystwyth |
| Thomas John Llyr Evans | 3 | 07975826752 | welshchef82@hotmail.co.uk | Cardigan |
| Mark Farrington | 3 | 07442507259 | mfaz100@hotmail.com | Newtown |
| Gary Fernandez | 4c | 07484722302 | gs.fernandez@btinternet.com | Brecon |
| Stephen John Fisher | 3 | 07919176864 | stephenfisher80@msn.com | Llandrindod Wells |
| Sean Gates | 4a | 07870391174 | seangates07@hotmail.co.uk | Machynlleth |
| Dean Andrew Gill | 4a | 07810051102 | deangill30@googlemail.com | Welshpool |
| Georgy Gould | 4c | | Gould204@btinternet.com | Pencader |
| Vaughan Harding | | FAW | | Welshpool |
| Owen William Harvey | 4c | | o_harvey.12@icloud.com | Shrewsbury |
| Geraint Holliman | 4c | | gjholliman@gmail.com | Hampshire |
| David Michael Hughes | 3 | 07800504091 | michaelhughes1956@btinternet.com | Welshpool |
| Rhys Humphreys | 4c | | rhyshumphreys6@gmail.com | Newtown |
| Robert Humphreys | 4c | 07977 013326 | rhumphreys64@gmail.com | Dolgellau |
| Roy Ingram | 3 | 07427978290 | ingramlinda5@googlemail.com | Morda |
| Alan Lloyd Jenkins | 3 | 07887910997 | jenksalan1@hotmail.com | Carmarthen |
| Robert Jenkins | | FAW | | Caersws |
| Aled Rhys Jones | 3 | 07876552490 | aledrhysjones@hotmail.co.uk | Lampeter |
| Barry Jones | 4c | 7814478280 | bazjones81@outlook.com | Brecon |
| Clive Jones | 3 | 07813663464 | clivejones008@btinternet.com | Welshpool |
| Gary Jones | 4c | 07983112862 | GaryJonespainting@outlook.com | Montgomery |
| Huw Jones | | FAW | | |
| Nerys Alaw Aur Jones | F2c | 07976467440 | alaw_cymru@hotmail.com | Builth Wells |
| Susan Elizabeth Jones | F2c | 07460115537 | suejones3754@gmail.com | Newtown |
| Paul Malcolm Kirkham | 3 | 07971711909 | kirkham428@btinternet.com | Kington |
| Matty Leoni | | | | |
| Gwilym Lewis | 3 | 07535574927 | gwilymlewis@btinternet.com | Caersws |
| Joe Lewis | 3 | 07951137384 | joelewis2710@hotmail.co.uk | Brecon |
| Rhodri Lewis | 4c | | Rhodrii@hotmail.co.uk | Clynderwen |
| Paul John Mantle | 3 | 07779761425 | paulmantle436@btinternet.com | Much Wenlock |
| Ross Mantle | 4a | 0154874103 | ross.mantle2504@gmail.com | Ludlow |
| Tomos Martin | 4c | | tommrt@live.com | Llandrindod Wells |
| Andrew David Mills | 3 | 07779158675 | andrewmillstreesurgeonandsons@hotmail.co.uk | Llandrindod Wells |
| Joseph William Mills Hogg | 4c | 07460091706 | Joemillshogg@yahoo.com | Welshpool |
| David Eirian Morgan | 3 | 07852855190 | eirianmorgan60@gmail.com | LLandysul |
| Rhodri Glyn Morgans | 4b | 07496951876 | rhodrimogz@hotmail.co.uk | Bontrhydfendigaid |
| Aaron Nelson | 4c | | aaronnelson1991@live.co.uk | Machynlleth |
| Alastair Nicol | | 7718914140 | alastairnicoll@gmail.com | Machynlleth |
| Thomas David Owen | 4c | | tda_owen@yahoo.co.uk | Aberystwyth |
| Roger Parker | 3 | 07927894521 | parkerroger1@aol.com | Oswestry |
| Josh Pearce | 3 | 07794487463 | pearce.j@aol.co.uk | Llanfyllin |
| Richard Henry Pickstock | 4a | 07816777732 | richardpickstock13@gmail.com | Llanfyllin |
| Kevin Price | 4c | | kpgmgardenservices@gmail.com | Bishps Castle |
| Edward Thomas Pryce | 3 | 07975741139 | eddie.pryce@btinternet.com | Llandinam |
| Michael David Pugh | 3 | 07779553965 | mikepugh622@btinternet.com | Shropshire |
| Saffron Grace Rennison | female?? | | sar75@aber.ac.uk | Aberystwyth Uni |
| Callum Richards | 3 | 07960661346 | callumfootballfan@hotmail.co.uk | Talgarth |
| Martin Roberts | 4c | 447494144599 | martin.roberts74@yahoo.co.uk | Welshpool |
| Robert Glyn Roberts | 4c | 07477440992 | robertsciltwm@tiscali.co.uk | Dolgellau |
| Joshua John Roper | 2AR | 07749135744 | jroper1992@hotmail.com | |
| Neil Brian Rutter | 3 | 07854082410 | neilrutter@aol.com | Montgomery |
| Akeen Savage | 4c | | aks14@aber.ac.uk | Aberystwyth Uni |
| Mario Sciberras | 3 | 07896853868 | mariosciberras@hotmail.co.uk | Aberystwyth |
| Connah Sears | 2AR | 07377539287 | FAW | |
| Rhys John Stedman | 4a | 07774002651 | stedman6879@gmail.com | Cardigan |
| Paul Tantrum | 4c | | 20tanty00@gmail.com | Llandrindod Wells |
| Alan John Thomas | 3 | 07968702223 | ajtthomas7@yahoo.co.uk | London |
| Gwynfor Thomas | 4c | | gwyn.4@outlook.com | Llansantfraid |
| Allan Tinney | 3 | 07738753666 | a.tinney53@gmail.com | Aberystwyth |
| Shaun Tulloch | 3AR | no number provided | djtulloch@gmail.com | Welshpool |
| Joseph Turner | 4c | | actiongraffix@hotmail.co.uk | Newcastle Emlyn |
| Darren Vaughan | 4b | | darren875@outlook.com | Tywyn |
| Declan Ward | 4c | FAW?? | | |
| Nathan Weale | 4c | | nathan.weale@icloud.com | Presteigne |
| Patrick Ryan Wilding | 3 | 07530073683 | patrick4736@gmail.com | Welshpool |
Please see updated Law changes for season 2020/2021